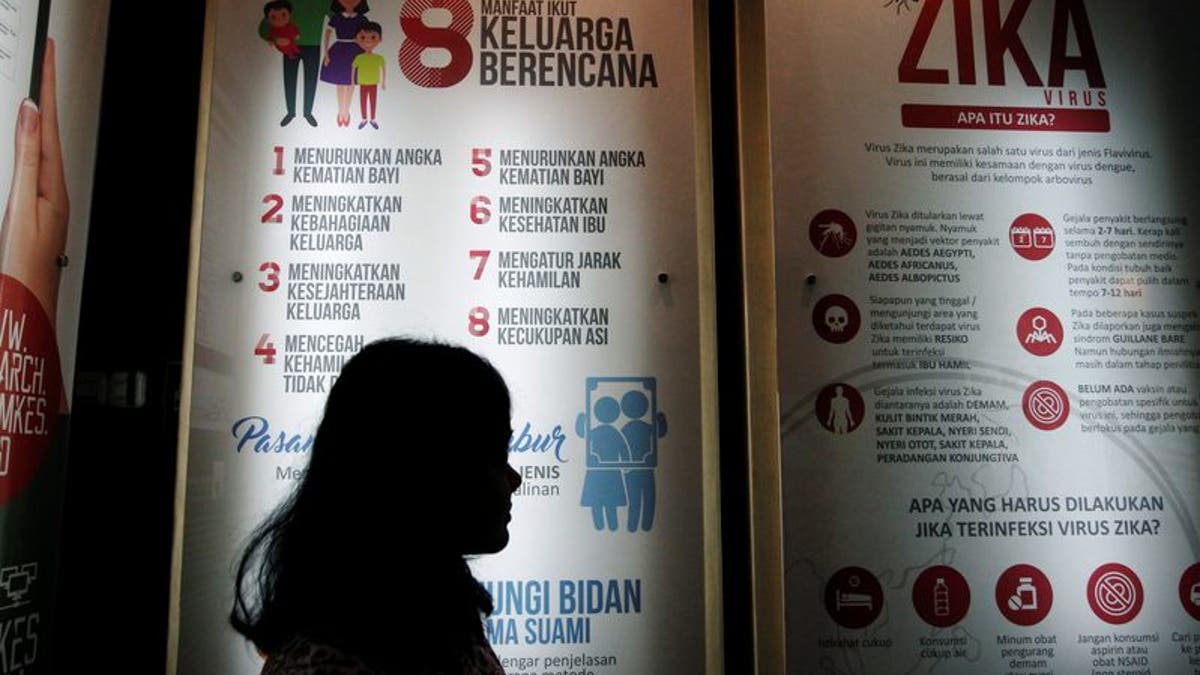 - Although the mosquito-born Zika virus often results in mild flu-like symptoms, serious birth defects linked to the illness may still justify travel advisories and require global testing standards, a new study suggests.
The World Health Organization on Friday said the Zika outbreak is no longer a public health emergency, putting the virus in the same category as other mosquito-born illnesses like malaria and yellow fever.
This ended an emergency declaration in place since February due to clusters of brain damage and birth defects among babies born in areas where the virus was spreading.
"I think the travel advisories still should hold," said Dr. Davidson Hamer, a global public health researcher at Boston University who led the new study.
"While the epidemic has slowed down in the Americas, there remains a threat of Zika there, and increased recognition (and local outbreaks like in Singapore) in Southeast Asia and the South Pacific mean that there is a continued risk in many parts of the world," Hamer added by email.
The current study uses data reported by the GeoSentinel Surveillance Network to assess the extent and characteristics of Zika virus infections caught by global travelers.
Zika virus has spread rapidly throughout Latin America and the Caribbean since its initial identification in the Americas in Brazil in 2015, researchers note in the Annals of Internal Medicine.
Although infections are asymptomatic or relatively mild in approximately 80 percent of cases, serious complications have been described including neurologic disorders such as Guillain-Barre syndrome and inflammation in the spinal cord and brain. The virus is also linked to miscarriages, premature deliveries, severe birth defects and infant deaths.
Researchers examined data on 102 patient cases reported to the surveillance network with a Zika diagnosis between January 2013 and February 2016. This included 64 confirmed Zika cases, 13 probable cases, and 16 clinically suspect cases.
Of the 93 patients with confirmed or possible Zika cases, 62 percent were female and half were at least 41 years old.
Roughly half of these travelers were tourists, while 39 percent were visiting friends or family and 8 percent were on business trips.
The top five countries where Zika virus was acquired include Suriname (22 percent), Colombia (17 percent), Brazil (11 percent), Martinique (11 percent) and Venezuela (8 percent).
Half of the travelers had spent at least 22 days in the country where they contracted the virus.
Among the 93 confirmed or suspected Zika cases, 72 people had tests for the virus done on at least one bodily fluid and 57 of the tested individuals were positive, the study found. The virus was detected in blood alone in 30 patients, in urine alone in 10 patients, in blood and urine in 12 patients, in urine and saliva in 2 patients, in urine and semen in one patient, and in semen alone in 2 patients.
Researchers found nine cases when blood tests for Zika were negative but the virus was detected in other fluids.
These test results highlight the need for a standardized diagnostic screening for Zika virus that can be used worldwide, said Mark A. Wainberg, a microbiologist at McGill University in Montreal who wasn't involved in the study.
"The use of (blood) testing is problematic and confuses Zika with dengue and chikungunya," two other viruses transmitted to people by mosquitoes, Wainberg said.
While people may not necessarily need to cancel travel plans or panic, they should still take precautions to avoid contracting the virus, Wainberg said by email.
"Use of mosquito repellant and doing whatever can be done to prevent mosquito bites is a good idea," Wainberg said.
Recent evidence also suggests Zika can be transmitted through sexual contact.
That means women who are pregnant or planning to conceive soon after travel should defer trips to areas where the virus is spreading - and so should their male partners, Hamer said. If they do visit areas where Zika is a known problem, they should use condoms to avoid pregnancy for at least two to six months after travel.