Giant hogweed severely burns Virginia teen, 17, sending him to hospital, report says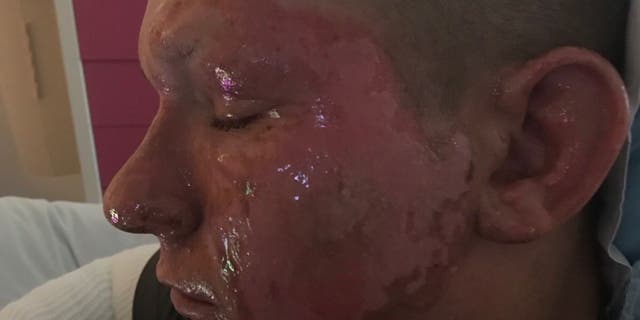 A Virginia teen suffered significant burns on his face and arm after reportedly being exposed to hogweed.
Alex Childress, 17, was inflicted with second-and third-degree burns after unknowingly touching the plant while he was doing work outside at his landscaping job on Tuesday, according to the Richmond Times-Dispatch. Childress reportedly believed the plant was an unwanted weed and went to remove it from the ground.
A person's skin can burn and blister after coming in contact with sap from the plant.
Childress' father, Justin, recalled to the outlet how his son told him he had a "really bad sunburn."
"The top layer of skin on the left side of his face basically was gone and appeared to be like a really bad burn that had already peeled," the elder Childress reportedly said.
Childress was brought to the hospital on Tuesday after his mom, a nurse, suspected that hogweed could be responsible, the Times-Dispatch reported.
A link to a GoFundMe page called "Alex's Burn Recovery Fund" was posted on what appeared to be the father's Facebook. In it, the teen explained the series of events that led to his burns, saying he was "trying to make a little extra spending money" before setting off for his freshman year at Virginia Tech.
He said he "unknowingly cut down and carried a 'giant hogweed' plant" and as a result was burned on his face and arm.
"I was transferred to the Burn ICU at VCU and treated for 3 days but still have daily wound care which requires debriding the burns to remove dead skin," the post read.
The goal for the GoFundMe is set at $10,000 and the teen said he intends to use any money raised to help offset costs for school and medical bills.
The Associated Press contributed to this report.