Georgia man who was paralyzed as a teen becomes mentor for other paraplegics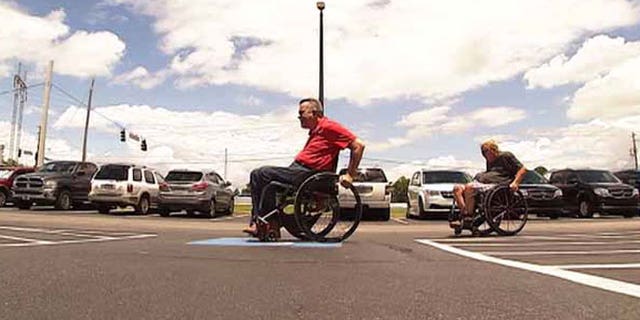 When 55-year-old Jimbo Boyd, of Conyers, Georgia, became paralyzed from the waist down after suffering a spinal cord injury as a teen, he didn't let it slow him down. In fact, since retiring from competitive wheelchair racing after 29 years, he has decided to dedicate his life to mentoring other patients like himself.
"I've always tried to help those along the way. When I was hurt, I didn't have anyone come in my rehab who had learned the ropes," Boyd told MyFoxAtlanta.com.
Boyd, who was initially injured after jumping from a roof into a pool and landing in about five feet of water, later suffered a rotator cuff injury while racing, which forced him to retire from the sport. That's when he met Dr. Sami Khan of Resurgens Orthopaedics, Cumming, Georgia.
Khan told MyFoxAtlanta.com that he thinks Boyd is a "great teacher" for other patients who are paralyzed and is the "ideal person to pass this information along to other people."
Thirty-year-old Delorean Williams, who goes by the nickname "Bean," is one of those patients. Williams was left paralyzed from the waist down after she was hit in the neck by a stray bullet while walking to a concert in college.
Williams and Boyd bonded because they both use wheelchairs, MyFoxAtlanta.com reported.
The two have started checking out cars together as Williams prepares to begin driving again. After years of rehabilitation, she is starting to push herself out of her comfort zone, even going so far as to learn how to sky dive.
"Independence, independence. That's just about it: independence," Williams told the news station.
Boyd said he plans to cheer Williams on as she begins driving classes at Shepherd Center in Atlanta.
"I want to be there when she starts driving," Boyd said. "I'll be in the back of the van as a passenger."
Atlanta News, Weather, Traffic, and Sports | FOX 5