Fourteenth time the charm? Mother of 13 sons expecting another child
NEWYou can now listen to Fox News articles!
A mom of 13 boys is expecting her 14th child — and as much as she and her husband would love some pink around the house, they say they aren't too worried about gender.
Kateri and Jay Schwandt's baby is due in April but the couple has decided to keep the baby's sex a surprise, just like they did the last few deliveries.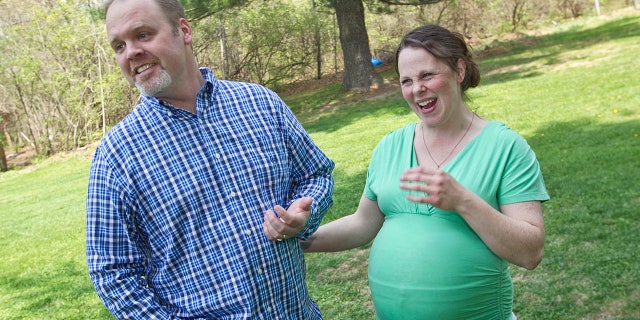 Kateri, 42, became a mom for the first time 25 years ago. Her youngest is now 2 years old.
"The thought of a girl, you know, just changes everything, so, you know I'm comfortable with a boy, but whatever we're given," Kateri told Fox & Friends.
The chances of having 13 sons is 1 in a whopping 8,192, but the chances of having a 14th son is even more staggering, at 1 in 16,384, according to data gathered by Wolframalpha.
The parents said during the interview that they have no interest in looking at a sonogram to try to figure out the sex of the baby beforehand. "That'd be like opening your Christmas gifts on Thanksgiving," Jay explained.
The Schwandts added that they really liked the buildup and the anticipation of the younger boys' births.
When asked how they manage to parent 13 children, Kateri said, "Patience, prayer and time management."
Earlier in the week, Jay told WOOD-TV that the 14th child would most likely be their last, "It just feels like this is going to be it, and we're going to enjoy every second of it."
But Kateri said she and her husband thought their 13th baby would be their last. Growing up in a large family is normal for the mother-of-13, since Kateri is one of 14 children herself.
"If you have three, it's the same as having 10 at this point, if you ask me," she said. "It's just more chaos, more noise. It's nothing we're not used to at this point."
The couple have 10 living under their roof now, two have been to college and two are presently in college.