Former NFLer Larry Johnson believes he's living with CTE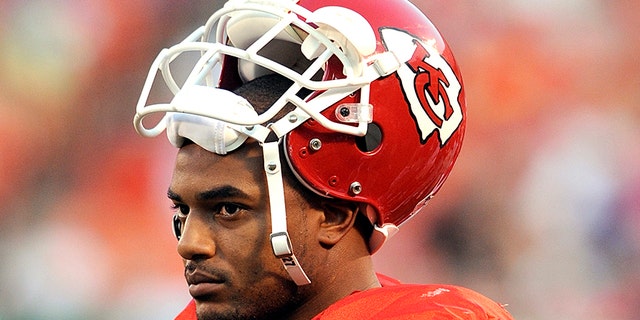 Former NFL running back Larry Johnson said he has no memory of two full seasons, and that he's considered violence toward others and himself as a result of what he believes is chronic traumatic encephalopathy (CTE).
For now, CTE can only be confirmed after death, but he told The Washington Post that the anxiety, paranoia, self-destructive impulses and violent mood swings that he suffers are a result of the degenerative brain disorder.
At one point, he described "demons" that flood his brain and push him toward jumping from the roof of an apartment building.
"One is telling you to do it; one is telling you don't," Johnson, a 2002 Heisman finalist, told The Washington Post. "One is telling you it'd be fun."
FIRST CTE DIAGNOSIS IN LIVING NFL PLAYER CONFIRMED BY AUTOPSY, REPORT SHOWS
Johnson, whose storied professional career began in 2003 with the Kansas City Chiefs and included two Pro Bowl selections, saw it end with six arrests, a suspension and short stints with the Bengals, Redskins and Dolphins.
While he told The Washington Post that it's getting harder to remember some of his greatest NFL moments, he's been working on a highlights reel for his 7-year-old daughter Jaylen so that she knows what he accomplished, and can one day possibly understand why he suffers from his symptoms.
"If I can't remember who I was, I've got YouTube; I've got music videos that I'm making for myself, so when I watch these things I can remember," he told The Washington Post. "I'm trying to get these things in order so she knows who I am and what I came from."
In a darker twist, a few years ago he created a video for Jaylen's second birthday meant to serve as a goodbye as he prepared to have himself sent away to either prison or another institution. He compared himself to Aaron Hernandez and said the two are like kindred spirits, and wondered if he had similar thoughts about taking care of his child before killing himself.
"The same way Aaron thought: I'm going to be gone from this world, but I'm still going to be able to take care of my child, because that's all I care about," he told the Washington Post. "When you're down that deep in it, you don't want to be talked out of it."
CTE BREAKTHROUGH: BIOMARKER MAY INDICATE DISEASE IN LIVING PATIENTS
While Johnson shares custody of his daughter with the child's mother, he said that it's the hours spent without her that he worries about whether he can control the "demons" that surface. He described a recent outing with friends where he had to leave without explanation after developing an irresistible urge to punch one of the men for being chatty.
"Something so easily dismissed," he told the Washington Post. "But it's just – once I get in that mood, I can't stop it. And it comes out of nowhere."
Johnson, who said he's always had somewhat of a "me against everybody" mentality, quit therapy and stopped taking prescribed medication because he feels he's better equipped to deal with his emotions without help. He got rid of his gun collection and mentors disadvantaged children, and regularly turns down offers to socialize with friends at trendy nightclubs.
AARON HERNANDEZ'S BRAIN SUFFERED SEVERE CTE, RESEARCHER SAYS
"You kind of create your own prison," Johnson told the Washington Post. "I've kind of barricaded myself in my surroundings [with] certain things that I can handle. That's kind of how I beat it."
CTE has been linked with repeated head trauma and is a concern among professional athletes as well as combat veterans. A study published in July by Boston brain bank researchers diagnosed the condition in 177 former players, or nearly 90 percent of the samples studied. Many donors or their families contributed to the study because of the player's repeated concussions and symptoms before death.
A relative told the news outlet that the family will consider donating Johnson's brain to research after death.