Florida pastor's wife dies from flu-related complications, family says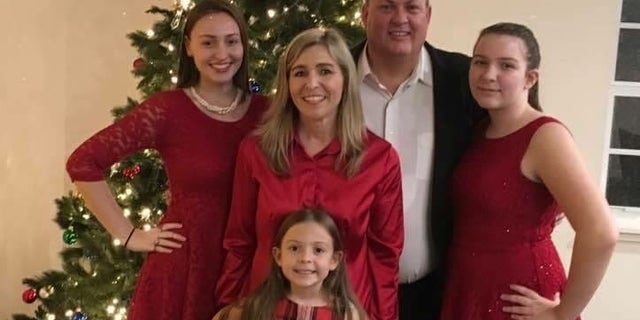 A 46-year-old mother of three died earlier this week after suffering from complications of pneumonia and the flu. Nicole Arnold, whose pastor husband Scott had asked his Facebook friends for prayers on Sunday, had been complaining about feeling feverish as she took care of other family members who had fallen ill before her, My Palm Beach Post reported.
"Flu, I hate you!" Arnold herself had posted on Aug. 23. "Can anyone say, 'School is back in session, bring on the germs.'"
She confirmed in a follow-up comment that the illness had acted in a "domino effect," in the Arnold house, affecting their three girls who had just started their senior, freshman and second-grade school years.
HOSPITAL OUTBREAK LINKED TO EYE EXAM KILLED NEWBORN, FAMILY'S LAWSUIT CLAIMS
"Everyday this week I've been to the pediatrician with one kid or the other. They do a double-take & say, 'weren't you just here yesterday?' It was a joke by today," she wrote on Aug. 24.
By Sunday, Arnold's condition had worsened and she had to be taken to the hospital. Her husband, a pastor at Journey Church of Jupiter, posted that she had been diagnosed with type A flu and pneumonia.
According to the Centers for Disease Control and Prevention (CDC), human influenza types A and B viruses cause seasonal epidemics of disease almost every winter. The emergence of a new and different influenza A virus can cause an influenza pandemic.
The CDC said getting a flu vaccine can help protect against an influenza A infection, but that it will not protect against infections and illnesses caused by other viruses.
"They have admitted her into Jupiter Hospital while the family is still dealing with sickness back home with Kaitlyn and Alexis who is running a small grade temp tonight," Scott Arnold posted on Aug. 26. "I was down for the count for a week and on meds yet still dealing with symptoms. Not the best start to the school year but we know God has a plan."
CLUSTER OF HIV CASES IN NORTH SEATTLE PROMPT CONCERN OF POTENTIAL OUTBREAK
Early Monday he had posted that his wife was moved to the intensive care unit, only to update hours later that she had died.
"This morning my wonderful wife passed from this life unto the eternal. Nicole gave me the best years of her life along with 3 beautiful girls. Her heart gave out today but I know she gave everything that she had to God, to me, and our family," he wrote. "I will always love you Nicole and pledge to be the best father to our children."
Members of their church and community have started fundraising in her honor.
The Palm Beach County Health Department confirmed a death of a Jupiter woman possibly due to flu-related causes, WPTV reported.