Fear, hope mark life inside Ebola center in Sierra Leone, doctor says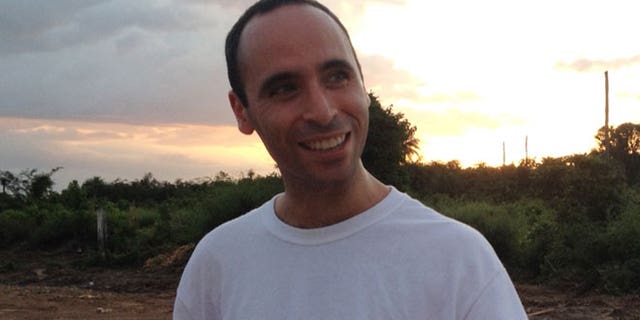 (Benjamin Black is a British doctor working as a volunteer with medical charity Medecins Sans Frontieres/Doctors Without Borders (MSF) fighting Ebola in Sierra Leone, the country now at the epicentre of the outbreak. In this first-hand account, he describes the challenges of working in an Ebola treatment center in West Africa, where the epidemic has killed more than 6,000 people.)
BO, Sierra Leone (Reuters) - It's moments like this that I fear most. A woman with Ebola is wandering around naked and screaming. A confused and potentially aggressive patient with a highly infectious, deadly disease -- separated from me only by my yellow protective bodysuit.
I heard the commotion while I was working with patients in the High Risk zone, the area of the treatment center reserved for confirmed Ebola cases. The screaming woman had left High Risk and was heading for the Low Risk zone where Medecins Sans Frontieres (MSF) staff do our paper work.
When I came outside, she lay down on the concrete floor under the glare of the scorching sun and rolled around moaning. She was not aggressive, just distressed.
With the help of a Sierra Leonean staff member, I protected her head from the hard, concrete floor and carried her to bed. It was hot work in our sweat-proof suits.
When I asked if she was in pain, she pointed to her chest, and said: "My father died, my mother died, my sister died, children died."
But I had nothing to cure a broken heart or a crushed soul -- only a gentle hand on her arm, a blanket and a sedative.
Each medical round is filled with sad stories and practical challenges. With so many patients, you can lose track of time while helping someone to drink, providing an intravenous line for another, finding comforting words or pain relief for another still.
If we discover a patient who has died, we straighten the body out before rigor mortis sets in. Patients often die with contracted limbs, making it hard to fit them into the body-bag.
Ebola strikes staff, friends, families
Since it began its Ebola intervention in March, MSF has set up six Ebola centers like this one in Sierra Leone, Guinea, Liberia, and Mali, with a total capacity of more than 600 beds.
Each day when I enter the Bo center, in southern Sierra Leone, the first thing I do is take a look over the whiteboards filled with patients' names. Five weeks ago there were three boards. Now there are seven.
With more than 60 patients and high turnover due to admissions, discharges and deaths, it's hard to keep track of everyone. So we use a color code to rank them in severity. In recent days, the red marker pen, for severe, has been getting a lot of use.
I try to organize the medical team early in the shift so we can get as much done before the sun is high. Entering the High Risk area requires what's called Personal Protective Equipment. It's heavy, and to work in the West African heat wearing this is incredibly hard.
The center is set up to minimise risk of infection. In the High Risk area, we work through a one-way system, starting with patients awaiting test results and ending with those confirmed to have Ebola. That way we don't risk infecting with Ebola someone who has another disease, like malaria.
With a Sierra Leonean colleague, I go to see the patients inside the "suspect" area. One girl today is a colleague's daughter. Ebola is not just something that happens to other people here. It has struck family, friends and staff too: MSF has some 300 international workers in the region but it relies on 3,100 locally hired people too.
Inside the next area -- for patients who probably have Ebola -- the patients are visibly sicker. Their test results are still awaited but they have enough signs and contact history for us to make a calculated judgment.
Among them is a two-year-old girl. She is lying on the bed working hard to breathe. I gently wake her and help her to take a few sips of water. With so many patients I cannot spend long with her so I make a note for insertion of an intravenous line and move on.
The final area, for patients confirmed with Ebola, is made of three large, long white tents. Most patients are well enough to walk outside to talk with an MSF colleague who sits across the plastic orange fence that separates High Risk from Low Risk.
I am only seeing those who cannot get out of bed, and today there seem to be many.
A place of life, and resilience
Once my shift is over, I head to the fence and call out the details of patients I've seen. They must be written down by someone on the other side of the fence because nothing I use in High Risk can come out.
I then go for decontamination -- a system of undressing under direct observation, with intermittent chlorine washing.
Once I am out, I hear that three more patients have died since I began the round. They include the two-year-old girl.
It is only 10 a.m.
The rest of the day comes with highs and lows. Every day we discharge a group of survivors. This happens to the banging of drums and blowing of horns and reminds us this is also a place of life, and resilience. Each survivor receives counselling and support to prepare them for re-entry to the world outside.
Since March, nearly 1,900 people have been discharged from MSF's centers -- almost half of the approximately 4,000 people who have tested positive for Ebola in them. It's a remarkable achievement against a disease that has no known cure.
But the arrival of ambulances from across the country quickly fills any spaces emptied by death or discharge.
Ebola is now spreading faster in Sierra Leone than anywhere else and despite repeated calls for more treatment centers, the country remains woefully under resourced. Until we can break the chain of transmission, days like this will continue every day.