FDNY firefighter meets Iraq War vet he helped save through bone marrow transplant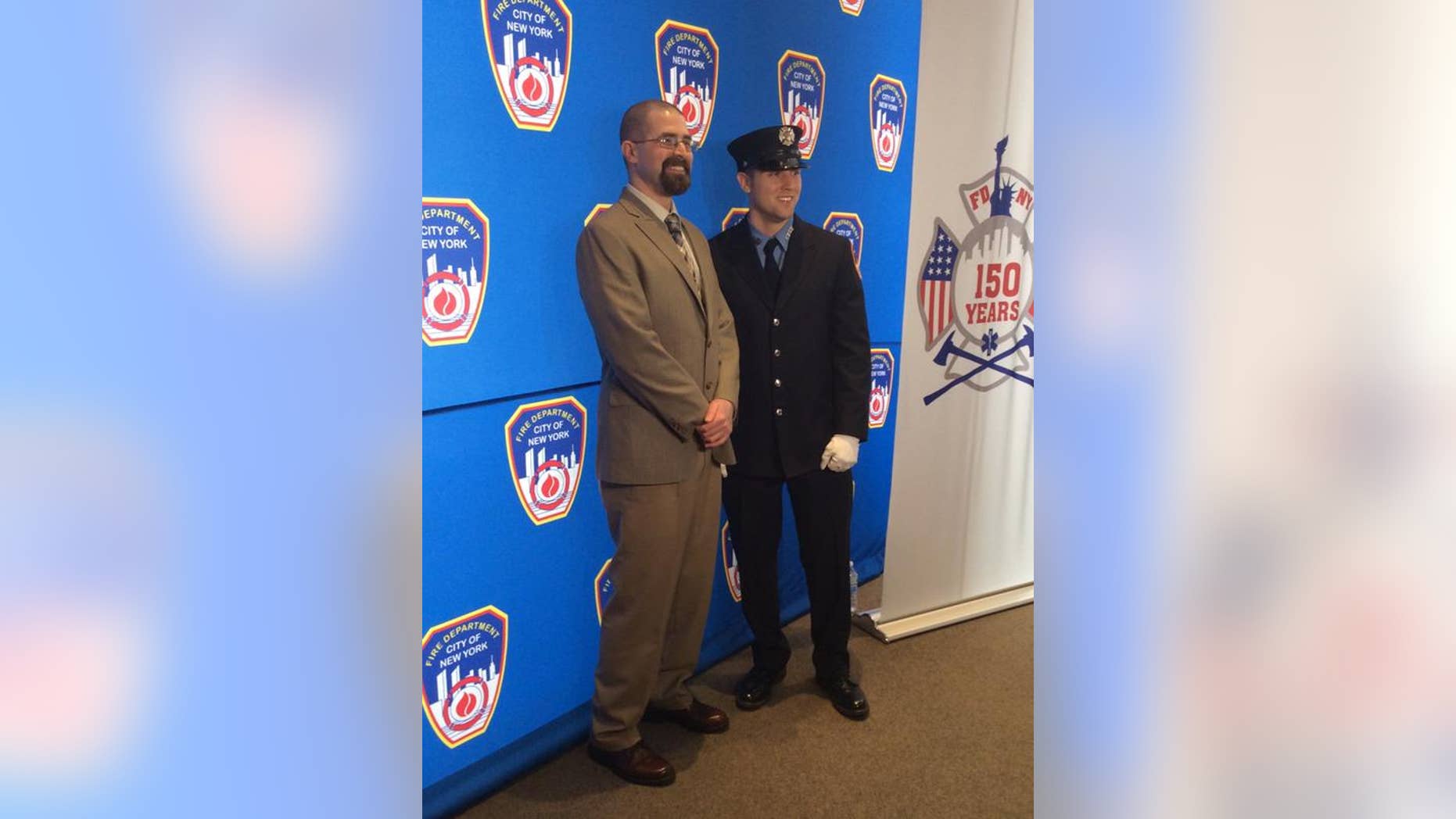 An FDNY firefighter met the Iraq War veteran he helped save through a bone marrow donation for the first time Wednesday at a special reception held in Brooklyn, New York, the NY Daily News reported.
In 2013, Michael McCauley learned he was one of three matches for a leukemia patient in need of a life-saving bone marrow transplant, the newspaper reported. McCauley, now 26, was found to be the best donor out of the potential three. The patient was 33-year-old Aaron Faulkner, a former Marine and father of two living in Pittsburgh.
McCauley had signed up to be a donor with New York Blood Center's bone-marrow registry through the FDNY, and was only a firefighter with Engine 242 in Bay Ridge for a few months before receiving the call.
"I was like, 'OK, let's get started,'" McCauley told the Daily News in an exclusive interview. He underwent a week of shots and spent hours at the hospital in preparation for the donation.
"The nurses were very kind. They make you as comfortable as possible," he told the newspaper.
McCauley never heard from Faulkner after the procedure, and wasn't sure if his donation helped him. But it did, and for Faulkner, who is studying to become a pastor, his life is still changing.
Faulkner had originally suspected that the leukemia was a case of mononucleosis before a blood test determined otherwise. At his worst, the Iraq War veteran lost 65 pounds and could hardly walk.
"I can go running now," Faulkner, who is still undergoing treatments, told the Daily News.
The two men, along with 22 other FDNY blood-marrow donors, were honored at the 11th Annual Honor Roll of Life ceremony at FDNY headquarters, the Daily News reported.
Both are thankful for the donor program.
"You're giving someone an opportunity and giving yourself an opportunity to help somebody," Faulkner told the newspaper.
"He's got more than one person depending on him," McCauley told the Daily News. "He has kids, a wife and he's a veteran. I helped someone who did a lot for this country."