FDA warns consumers not to use skin products with mercury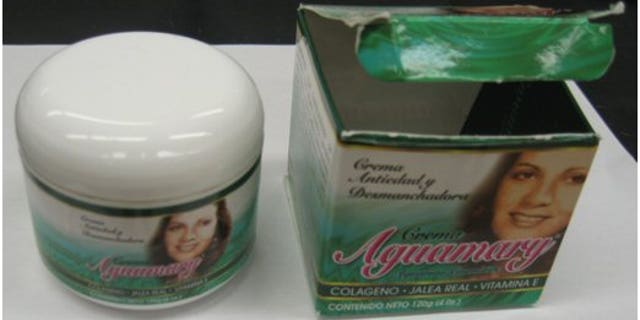 Federal health officials are warning consumers not to use certain off-brand skin creams, antiseptic soaps and lotions because they may contain mercury, according to a report released by the Food and Drug Administration.
The products are marketed as skin lighteners and anti-aging treatments that remove age spots, freckles, blemishes and wrinkles, said Gary Coody, the national health fraud coordinator for the FDA's Office of Regulatory Affairs. Some are also marketed as acne treatments for teenagers.
Skin products containing mercury have been found in at least seven states, including Texas, California, Virginia, Maryland, New York and Minnesota.
In Texas, health officials reported samples of face cream they tested contained mercury up to 131,000 times the allowable level, while in California, a woman suffered symptoms of mercury poisoning after using a skin cream with mercury for three years.
The products are typically manufactured abroad and sold illegally in the U.S. or bought in other countries by consumers vacationing abroad.
"If you have a product that matches these descriptions (and others listed below), stop using it immediately," Coody said in a press release.
Dr. Linda Katz, the director of FDA's Office of Cosmetics and Colors, added that while the products are marketed as cosmetics, they also may be considered as unapproved new drugs. Furthermore, the FDA said it does not allow mercury in drugs or cosmetics, except under specific conditions – which these skin products do not meet.
Mercury exposure can have serious health consequences, according to Dr. Charles Lee, a senior medical advisor for the FDA.
"It can damage the kidneys and the nervous system, and interfere with the development of the brain in unborn children and very young children," Lee said. A person can get mercury in their bodies merely by breathing in mercury vapors or touching people who have used the skin products.
The FDA is advising consumers to check the label of any skin lightening, anti-aging or other skin product they use. If the product contains ""mercurous chloride, calomel, mercuric, mercurio, or mercury," stop using the product immediately, the FDA said.
Additionally, do not use any products without labels or without English labeling provided. If you suspect you have used a product with mercury, contact your health care provider or the Poison Center for advice.