'Empathy Cards' tell the honest truth about illness and recovery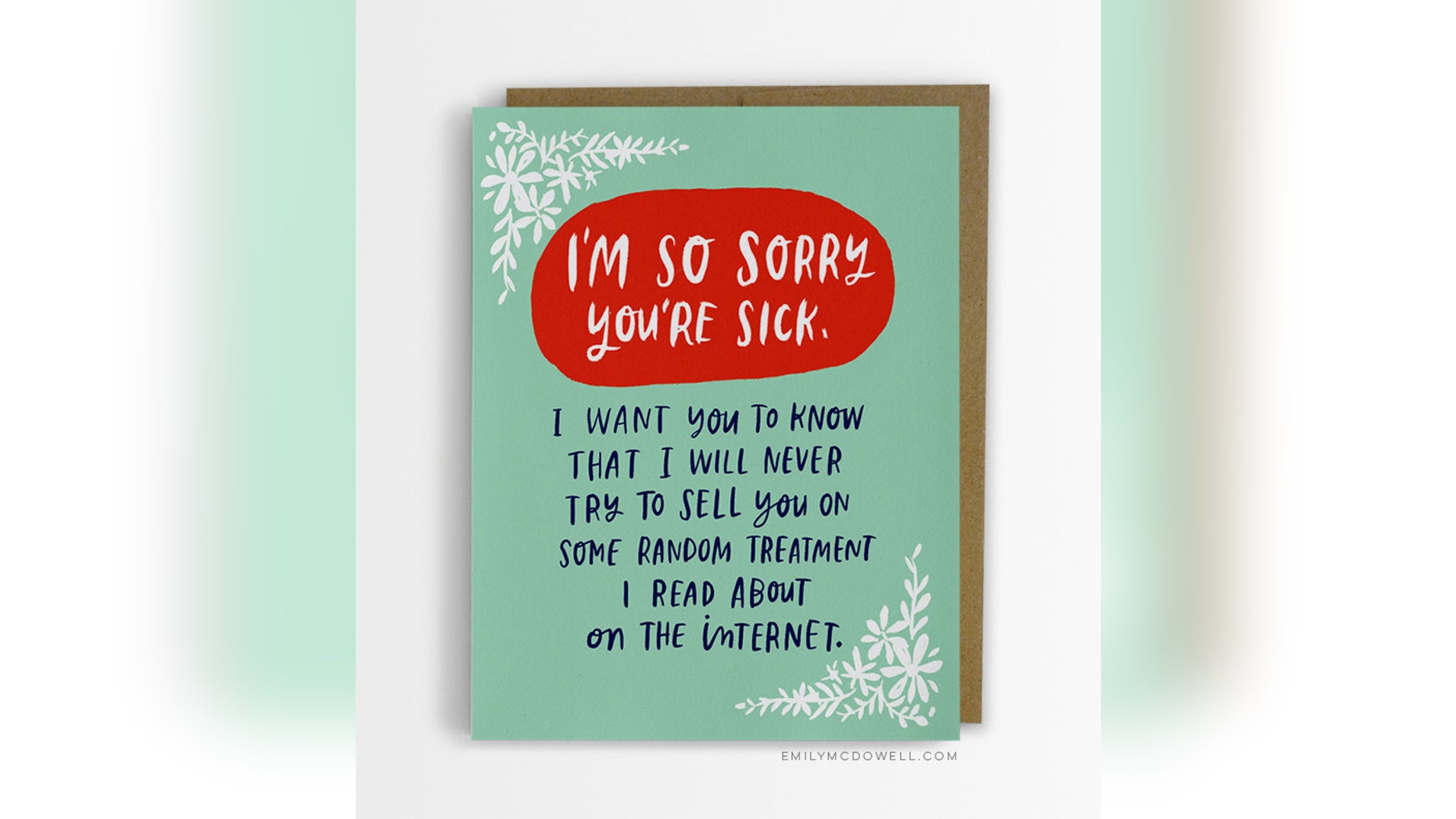 When a loved one is diagnosed with cancer, offering support during treatment can sometimes be just as important as the medicine itself. However, those who struggle with finding the right words to say may shy away rather than reach out, and others -- though well-intended -- may offer unsolicited advice to the already-weary patient.
Emily McDowell has experienced both sides. Diagnosed with stage 3 Hodgkin's lymphoma 15 years ago, McDowell can remember feeling alienated and isolated as those around her struggled to relate to her illness. McDowell, 39, who has been cancer free since undergoing nine months of chemotherapy and radiation after her diagnosis, said the hardest thing about her cancer wasn't losing her hair or being sick from treatment, but the loneliness she felt.
Two years ago, McDowell, who previously worked in advertising, launched a gift and greeting card line based on what she labeled as telling the truth and human observation, under the brand Emily McDowell Studio. As her followers and recognition for her brand grew, she decided to expand her line and in May released "Empathy Cards," 10 cards that feature messages she said she wishes she heard when she was sick.
Featuring phrases like "I'm so sorry you're sick. I want you to know that I will never try to sell you on some random treatment I read about on the internet," McDowell said she wanted the messages to resonate with a wide-range of people who are dealing with an illness.
"I wanted to be able to help people feel understood, and I also wanted to provide a way for friends and family who don't know what to say to make it easier to reach out," McDowell told FoxNews.com.
"The reason I chose those [sayings] is because they are the ones that get said all the time to people with an illness or who are going through a loss," McDowell said. "Most of the time who it is said to, it's not helpful, but you know that the person is trying to help."
The initial launch received tremendous feedback from patients, caregivers and healthcare workers. McDowell said much of the response has come from people sharing links via social media, signaling that the cards are resonating with them. Patients themselves have also responded, telling McDowell that the cards "made me feel normal," which she said is the greatest compliment she can receive.
While McDowell said she has gotten thousands of emails with suggestions for cards relating to specific illnesses, she plans to keep the line's messages more broad.
"I didn't have cystic fibrosis or Lyme disease, so it's hard for me to write to those specific things, because I don't know what that's like," she said. McDowell added that choosing which messages to feature on her cards involved gut instinct.
"There's a lot I could've written that would have been true, but not good cards," she said.
The company is also working on an alternative for a card relating to a recent loss.
"That's another situation in which nobody knows what to say when someone loses someone close to them, like a spouse or a child," she said. "There's not much in the way of greeting cards that is appropriate."
McDowell also said she encourages those asking for specific cards to create their own at home.
"I wanted these to be able to help people feel understood and I also wanted to provide a way for friends and family who don't know what to say, to make it easier to reach out," she said.
McDowell's cards are sold in retail stores nationwide, and are also available through her website.