DR. MANNY: Shkreli exemplified worst in drug industry, now feds must fix it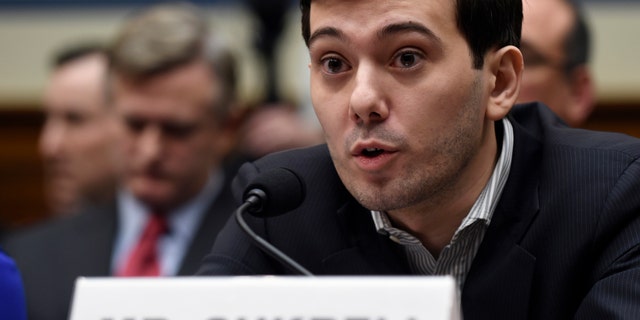 NEWYou can now listen to Fox News articles!
I am sick to my stomach over the past and present actions of former Turing Pharmaceutical executive Martin Shkreli, whom everybody knows took advantage of the American people. He preyed on the sick by hiking the price of a very inexpensive, potentially life-saving drug by more than 5,000 percent overnight in order to make a profit. He did not give a damn about the true mission of the drug, Daraprim, which is to help cure a parasitic infection.
I was thrilled when he was arrested in December for alleged securities fraud, and his conduct today during a brief appearance on Capitol Hill only served to reinforce how indifferent he is toward the American public. The hearing today before the House Oversight Committee was meant to air issues with the prescription drug market, notably with price gauging and a lack of transparency. There were legitimate questions that deserved to be asked, but Shkreli refused to answer – a metaphor for how many pharmaceutical companies operate.
Turing's chief commercial officer Nancy Retzlaff and the interim CEO of Valeant Pharmaceuticals, Howard Schiller also appeared before lawmakers. They were questioned on the public concern on rising drug prices, and at least tried to explain their logic in a more cohesive manner. Be that as it may, I think today went very, very poorly for the drug industry. What the American public has seen thus far is a true lack of transparency in drug pricing, and it was only exemplified by Shkreli's antics.
However, we have to realize that there are many legitimate drug companies, especially small biotech companies that do have a vision to create medications to eradicate disease – especially in the cancer field. When you look genuinely at this sect of the industry, the public has to realize that for many small companies, it takes up to 15 years from proof of concept to bring a medication to clinical trial. The federal government often creates regulatory dead ends so that by the time a drug put up for sale, the cost of getting it to the market reaches hundreds of millions of dollars. This is often one of the many contributing factors to the high cost of pharmaceutical products.
I have some advice for the next president of the United States, if he or she so boldly chooses to take on the issue of drug costs. Many of it has to do with common sense:
1. Bring a more streamlined approach to FDA approval. There are far too many committees and steps that create a maze for companies to get from Point A to Point B.
2. One of the issues we have with any biological product is that we need new technology, new software and new computer modulations that can help scientists mimic the biological process of a drug in a human, before we can get to clinical trials. Biology is not like physics or mathematics, it has unknown paths of consequences. Without computerized models, scientists are unable to predict any potential side effects in this medication, which can set a drug back years in research. More federal funding must be directed toward these technologies.
3. There must be more competition in the generic drug market, especially with regard to medication that the public uses every day. With more competition, you will achieve lower pricing.
4. Medicare and Medicaid should have a better bargaining purpose to reduce the federal subsidies that are being utilized to bring medical drugs to patients in a more cost efficient matter.
What we saw today on The Hill was the worst example of what is going on in the pharmaceutical industry, and validated what many Americans believe happens behind closed doors. It was brought to light, the American public now knows, and it is up to the federal government and our future president to fix this problem.