Dad 'breastfeeds' baby after mom suffers delivery complications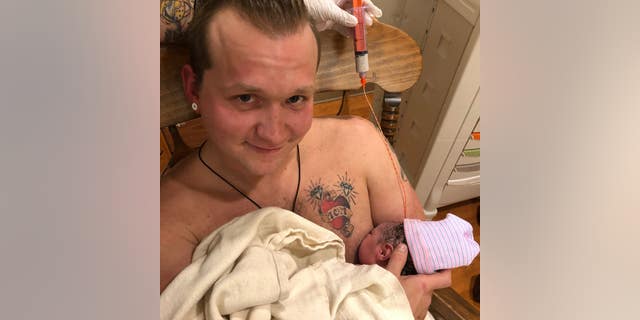 A Wisconsin father took baby-feeding duties to a new level after his wife suffered delivery complications.
Maxamillian Neubauer was given the opportunity to breastfeed his newborn by a nurse at Door County Medical Center after his wife, April, had multiple seizures during an emergency C-section.
The intimate father-daughter bonding moment was captured in photos that went viral. The Facebook post garnered more than 43,000 views and 30,000 shares as of Tuesday.
First-time mom April told WBAY that she thought she would never have children because she suffers from polycystic ovary syndrome, a hormonal disorder that causes infrequent menstrual periods.
After learning she was pregnant, she developed a post-birth plan that included making immediate "skin-to-skin contact" with her newborn. But complications arose during delivery and sent the new mom to the intensive care unit.
Hospital nurse Cybil Martin-Dennehy offered new dad Neubauer an alternative "skin-to-skin" contact plan.
MOM WARNS ABOUT DANGERS OF HOT SLIDES AFTER 4-YEAR-OLD SUFFERS SECOND-DEGREE BURNS
"Due to complications during Aprils emergency c-section. This super rad nurse made a epically killer offer, and I was fortunate enough to slap on a suction cup fake nipple. Being the first to breast feed da baby!!!! 'I did it for the moms' Eat your heart out!!" Neubauer said in a Facebook post.
Martin-Dennehy said that when she has offered fathers the opportunity to breastfeed their children, she generally receives looks of confusion and disbelief. She said Neubauer's eager response was a welcomed surprise.
"I love my job and am passionate about breastfeeding, and I hope it encourages other healthcare providers to recognize the role that dads play in the breastfeeding journey. Maybe even more so now!" Martin-Dennehy told CBS.