Connecticut man proposes with heartwarming flash mob during spin class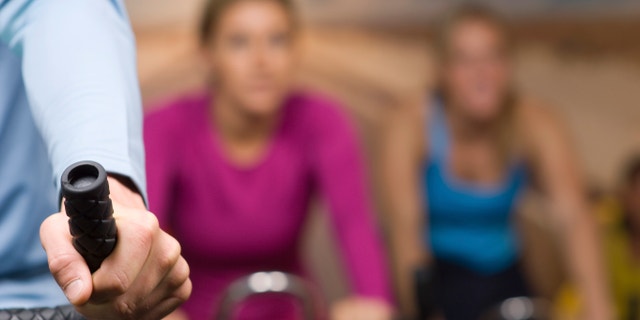 NEWYou can now listen to Fox News articles!
Spinning has become an increasingly popular fitness fad, with multiple studios opening across the United States each year. Spin classes typically involve high-intensity interval training and a motivational soundtrack, but one instructor in Connecticut saw a unique turn of events unfold after his riders began a flash mob and his boyfriend got off his bike to propose.
Riding along to pop star Jess Glynne's hit song "Hold My Hand," Jared Marinelli, an instructor at JoyRide Cycling Studio in Westport, Conn., realized less than a minute into the track that this wasn't just an ordinary class. USA Today reported that his riders, which included his boyfriend, Adam Keller, in the front row, soon hopped off of their stationary bikes to perform a choreographed dance. A video that appears on HooplaHa.com documented the flash mob.
Startled, Marinelli asks, "What's going on?" and one of the riders tells him through a microphone to sit on his bike as the flash mob breaks out in dance to the tune. While moving to the beat, the riders take off their shirts to reveal their black tank tops emblazoned with a heart and the text "Team Jared" underneath.
Next, the video shows the riders hopping back on their bikes and pedaling, some holding up hand-decorated posters with messages expressing Keller's love for Marinelli.
Toward the end of the video, Keller steps up to the podium to meet Marinelli, expressing his love for him, and then asks, "Will you marry me?" Both men break into tears, Marinelli accepts, and they embrace.