Common Diabetes Drug May Help Treat Ovarian Cancer, Says New Study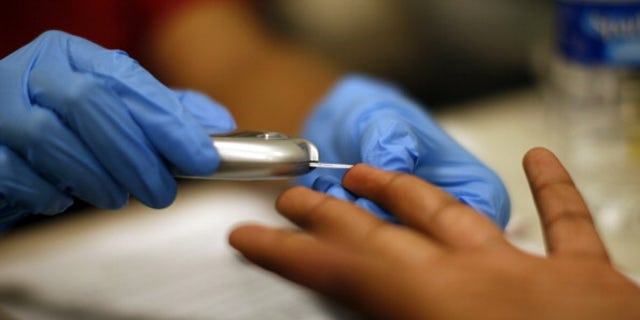 Could a common medication prescribed for diabetes also treat a killer among women? One group is saying yes.
Health.com is reporting ovarian cancer patients who were taking metformin lived longer than those who didn't, which may possibly offer scientists more insight on how they can treat, and ultimately cure, the disease. The drug, which is usually prescribed to lower blood sugar levels in people with type 2 diabetes, is derived from French lilacs.
The site also states that metformin has shown "promise as a potential anticancer agent in recent prostate, colon, pancreas, brain and breast cancer studies, as well as in lab experiments with ovarian cancer cells."
In the new research, which was published Monday in the journal Cancer, scientists evaluated medical records of ovarian cancer patients who received their cancer diagnosis between 1995 and 2010. At the time of the diagnosis, 61 patients were taking metformin while 178 people were not. The scientists are reporting that 67 percent of the women on the medication did not die within five years, while only 47 percent of the control survived that long.
In addition, researchers are claiming patients taking metformin were more likely to survive throughout the study than those who did not take it.
"Our study demonstrated improved survival in women with ovarian cancer that were taking metformin," said Mayo Clinic's Dr. Sanjeev Kumar to the site.
While the outcome of the studies does show promise, others still believe more analysis is required. Dr. Otis Brawley, the American Cancer Society chief medical and scientific officer, stated metformin's side effects mimic symptoms associated with ovarian cancer relapse.
"I could easily see a woman having a lot of unnecessary anxiety because she thinks her cancer is back, or her doctor being fooled into ordering a lot of unnecessary diagnostic tests," said Brawley to WebMD.com.
In the new study, scientists revealed ovarian cancer cells stopped dividing when given the medication.
Ovarian cancer is increasingly impacting the lives of Latinas, in particular, within the U.S. According to the Centers for Disease Control and Prevention (CDC), there were 848 Hispanics that died from ovarian cancer in 2010. That's 270 more than in 2000 when there were 578 fatalities.
Despite the positive outcome, Kumar also stated it's too early for doctors to implement metformin as part of an overall treatment.
"We don't have sufficient evidence that patients with ovarian cancer should be on metformin," said Kumar. "This is a study that forms a hypothesis, but patients should wait until large-scale randomized trials are conducted."
Follow us on twitter.com/foxnewslatino
Like us at facebook.com/foxnewslatino