Cancer gene mutation linked to earlier menopause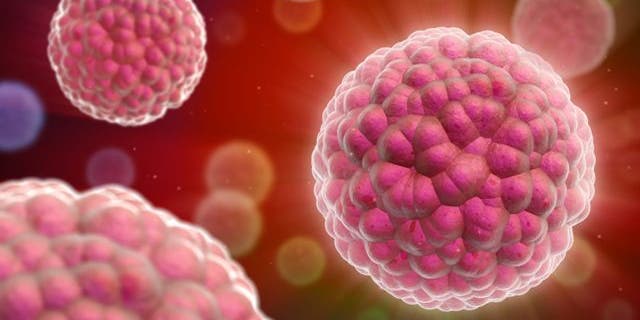 Women carrying BRCA mutations tied to breast and ovarian cancer may hit menopause a few years earlier than other women, according to a new study.
Doctors already discuss with those women whether they want immediate surgery to remove their ovaries and breasts, or if they want to start a family first and hold off on ovary removal.
"Now they have an additional issue to deal with," said Dr. Mitchell Rosen, who worked on the new study at the University of California, San Francisco Medical Center.
An estimated one in 600 U.S. women carries the BRCA1 or BRCA2 gene mutation.
Those mutations greatly increase the risk of breast and ovarian cancer. According to the National Cancer Institute, a woman's chance of getting breast cancer at some point in her life increases from 12 to 60 percent with a BRCA mutation, and ovarian cancer from 1.4 percent to between 15 and 40 percent.
What has been less well studied is whether those mutations also affect a woman's egg stores and her chance of getting pregnant.
For the new study, the researchers surveyed 382 California women who carried the BRCA1 or BRCA2 mutation and another 765 women who weren't known carriers. The study team focused specifically on women who went through menopause naturally - and not those who had their ovaries removed before menopause.
Women with the genetic mutations said they'd stopped getting their periods at age 50, on average, compared to age 53 for other women. The youngest natural menopause, at age 46, came for women with a BRCA mutation who were also heavy smokers, Rosen and his colleagues reported Tuesday in the journal Cancer.
Their study only included white women, so it's unknown whether the findings apply to other racial and ethnic groups. It's also not clear whether mutation carriers had any trouble conceiving - although it's more likely, the researchers said.
"The earlier you go into menopause, the more likely you are to not be able to have kids," Rosen told Reuters Health.
'Huge burden'
Ellen Matloff, director of cancer genetic counseling at the Yale Cancer Center in New Haven, Connecticut, said she didn't want BRCA mutation carriers to be overly worried about the new findings.
Those women are already advised to get their ovaries taken out by age 40, which puts a "huge burden" on them to find a partner and start a family, she said.
"This study does not mean that you can't have children, and it doesn't mean that you have less time than you thought you did," Matloff, who wasn't involved in the research, told Reuters Health.
"I don't think anything I read in this study would suggest that (mutation carriers) need to move their plans up."
Because past studies haven't suggested high rates of infertility in carriers - and her clinic also hasn't noticed that trend - Matloff said more research will be needed to confirm these findings and their impact, if any.
Almost all women who carry the mutations have their ovaries removed surgically before going through natural menopause anyway, she added.
Still, Rosen said, BRCA mutation carriers should be counseled about fertility issues along with cancer ones.
Freezing eggs or embryos is one option for women who are worried about infertility, he said. It also gives doctors a chance to test embryos to see if they're positive for the genetic mutations.
"Any BRCA carrier that was coming in, I would really encourage it," Rosen said.