Baby born with enlarged tongue smiles for first time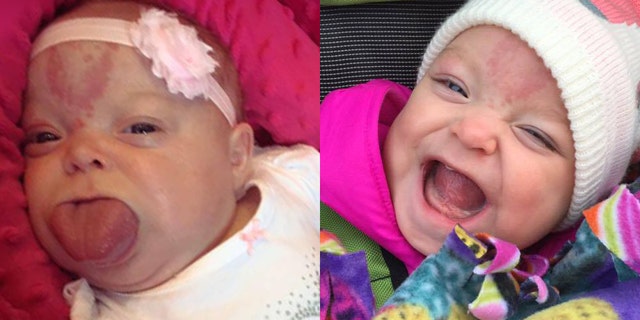 A 17-month-old baby born with a rare syndrome that causes parts of her body to grow faster and larger than normal can finally smile, after doctors performed two surgeries to remove parts of her enlarged tongue. Paisley Kienow, who was born with Beckwith-Wiedemann syndrome, is also being monitored for mismatched limb growth.
"Jesus Christ never thought Paisley was perfect without Beckwith-Wiedemann," Madison Kienow, Paisley's mother, told Fox 2. "I ask 'why us,' but now I know why. Because we're strong, and because we have love."
Kienow did not know Paisley had the condition until she was born pre-term at 26 weeks. In ultrasound photos it appeared that Paisley was simply sticking out her tongue. Drs. David and Patrick Munson at Sanford Health in Sioux Falls, South Dakota, also addressed an umbilical hernia, and are devising a plan for Paisley's legs.
Kienow said her daughter will also have to undergo ultrasounds to ensure she does not develop tumors as a teen, Fox 2 reported. Kienow, a pre-medical student, said she has found support groups on Facebook which has helped her cope, and that doctors have given Paisley a good long-term prognosis.
The syndrome affects about one in 13,700 newborns worldwide, with tumors developing in about 10 percent of patients.