Autistic boy who shared lunch with FSU football player on hand for team's comeback victory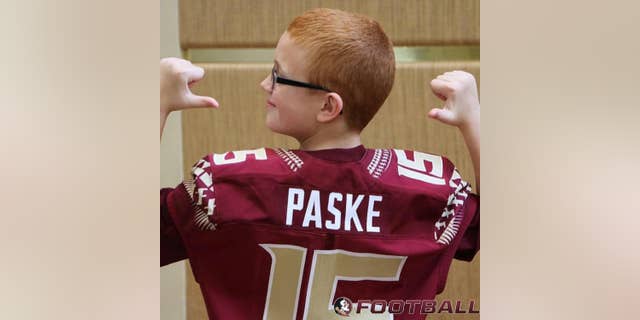 NEWYou can now listen to Fox News articles!
A boy featured in a photo with a Florida State University football player that quickly went viral for the special message behind it attended the team's home opener as a special guest of the Seminoles. Bo Paske, a middle school student with autism who shared a meal with wide receiver Travis Rudolph said it was "an absolute blast," Fox 5 Atlanta reported.
Ahead of Monday's game, Rudolph presented Paske with a custom FSU jersey featuring the boy's name on the back. Paske and his mother Leah were in attendance as FSU staged a major comeback victory over Ole Miss.
"It's definitely been a whirlwind, but FSU and ESPN and the whole team has been fantastic and so gracious and kind and generous," Leah told Fox 5 Atlanta. "Just bringing us here and putting us up. The gifts, they gave him shirts today, so it's just been fantastic."
Paske marveled over getting to meet the whole team.
"This week has been an absolute blast and I can't believe I get to meet the whole team," he told Fox 5 Atlanta.
Paske first entered the spotlight when Rudolph asked if he could eat lunch with him after spotting him alone at a lunch table during a visit to his middle school. Someone snapped a photo of the two and sent it to Paske's mom who shared it on Facebook.