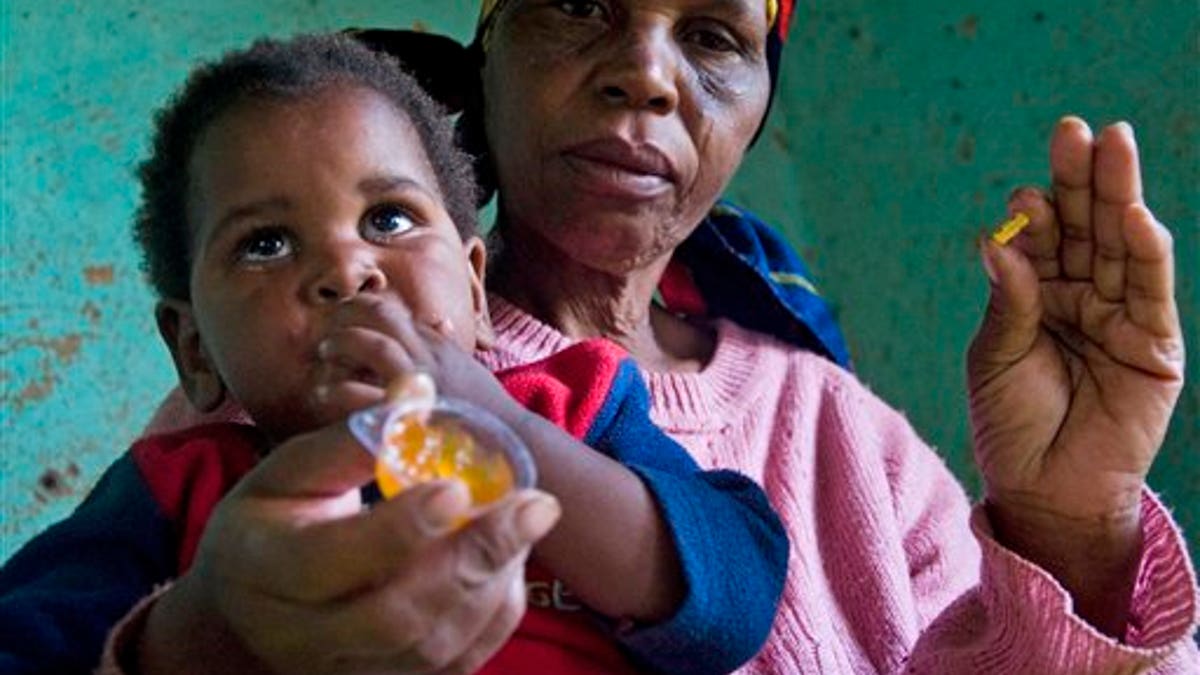 PRETORIA, South Africa – South Africa's health minister is increasingly concerned at the cost of coping with AIDS in the country with the world's largest number of HIV-positive citizens. But in an interview marking World AIDS Day Wednesday, Dr. Aaron Motsoaledi said his government has no choice but to keep spending.
"If we stop anything, we will just reverse all our gains," he said, adding that if better decisions had been made and stronger action taken earlier, costs would be lower now.
Last year on the day devoted to taking stock of the fight against AIDS, President Jacob Zuma gained worldwide praise by pledging an ambitious testing and treatment campaign and more vigorous efforts to stop the disease's spread. Motsoaledi is in charge of the campaign, and has been praised for his energy and openness by AIDS activists who repeatedly clashed with a previous health minister who promoted beets and garlic over AIDS drugs and questioned the link between the HIV virus and AIDS.
Gail Eddy of the South African Institute of Race Relations, one of the country's oldest and most respected independent social research centers, said there are already signs of results that could be linked to a shift that began even before Zuma's announcement last year. The institute points to a lower HIV rate among young South Africans, and gradual gains in life expectancy, to about 50.
Still, an estimated 5.7 million people in this country of 50 million are infected with HIV, more than in any other country.
A report by an international team of experts commissioned by the South African government concluded that under the current AIDS plan, $88 billion will be spent over the next two decades, with the number of new infections falling gradually from 500,000 to about 350,000 annually. The report outlined a more ambitious plan that would cost $102 billion over the same period, and bring the number of new infections down to under 200,000 a year.
Even under the best circumstances, another 5 million South Africans will be infected over the next 20 years, the researchers concluded. Motsoaledi said the study may be overly pessimistic.
The South African government itself pays for 80 percent of AIDS care and prevention programs. International donors take care of the rest, usually in direct payments to private groups.
Motsoaledi said private groups working in South Africa have told him they are struggling because of a drop in international funds, blamed in part on the global recession.
"We are very much concerned," he said.
This year, donors committed $11.7 billion to The Global Fund that tackles AIDS, tuberculosis and malaria, a major source of AIDS funds, over the next three years. That was 20 percent more than was pledged for 2008-2010, but far below the $17 billion the United Nations says is needed.
The U.S. President's Emergency Plan for AIDS Relief, another major funder of AIDS programs around the world, had a modest increase, from $6.8 billion in 2010 to nearly $7 billion for 2011.
The international medical aid group Medecins Sans Frontieres marked World AIDS Day by expressing concern about funding at a time when new strategies for combatting the disease call for putting people on medication earlier — a costly step over a lifetime of treatment that South Africa adopted as policy for certain categories of patients, such as those with tuberculosis, in April.
Despite that, the country is unable to provide antiretroviral treatment for half of those who need it. Only an estimated 1.2 million people are receiving medication at public facilities, with another million or more going untreated, said Mark Heywood, deputy chairman of South Africa's National AIDS Council.
"The evidence of what we need to do in order to turn the tide of the epidemic is mounting," Dr. Gilles van Cutsem, Medecins Sans Frontieres's medical coordinator for South Africa and Lesotho, said in a statement. "But just as we're seeing the promise of the latest treatment recommendations, the money donors are allocating ... is stagnating."
Motsoaledi, the health minister, said his government wants to keep paying 80 percent of its AIDS bill, an important commitment because it means more donor money will be available for countries in even direr need. While South Africa has the most HIV-positive people, other, poorer countries, including neighbors like Swaziland, are more burdened because a higher percentage of their citizens are HIV-positive.
A World AIDS Day report by the Washington-based Institute of Medicine said the costs of treating AIDS in Africa are "not sustainable for the foreseeable future." It said stopping new infections must be a priority.
That is Motsoaledi's approach. He calls, for example, for ensuring more pregnant women know whether they are HIV-positive, so that those that are can receive drugs that will keep their babies from contracting AIDS.
"We believe no child ought to be born HIV-positive," he said.
He also is stepping up condom distribution and male circumcision. Circumcision, in conjunction with using condoms and remaining faithful to one partner, has been shown to cut the risk of contracting the AIDS virus by as much as 60 percent.
"We have made strides, very important strides," Motsoaledi said. "We need to keep on increasing our momentum."