5-year-old Minnesota girl with birth deformity gets art surprise at pre-K classroom
Five-year-old Mattea Grandaw likes to draw and paint lots of things, including her big sister, 7-year-old Sajen, and her 1-year-old English bulldog, Mikko. But it was a colorful self-portrait with the descriptor "I love my two fingers"— a nod to the two sole digits on her right hand, resulting from a congenital abnormality at birth— that brought Kelly Anne Suarez, a spokeswoman for Crayola Experience, to tears.
"It's hard to be an individual because we all have things about us that are different," Suarez told FoxNews.com, "and to see how comfortable she is in her own skin and how she celebrates the essence that is Mattea is so wonderful."
Tuesday, Crayola Experience, an extension of the classic crayon company of its namesake, threw an hours-long event for Mattea and her nearly two dozen classmates at Lester Park Elementary School in Duluth, Minn., where Mattea goes to school, after Mattea won a contest on Facebook. With locations in Easton, Pa., and Orlando, Fla., Crayola Experience hosted the event to celebrate its upcoming Memorial Day weekend launch in Minneapolis at the Mall of America.
Brandi Grandaw, Mattea's mom, saw the callout as a sponsored post on Facebook, entered Mattea by writing a letter to Crayola Experience, and won— beating about 300 other applicants, Suarez said.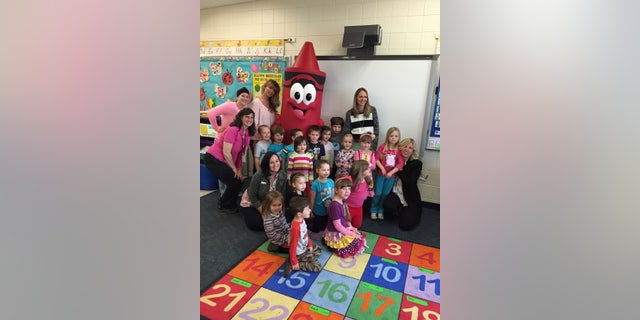 Grandaw introduced art to her daughters' lives early on, and, they, like her, developed an affinity for coloring.
Indulging in the hobby required Mattea, who's right-handed, to learn to wield a paintbrush, crayon or marker with her left hand. Mattea was born with unlar dysplasia, a rare longitudinal limb deficiency whereby the ulna— the long, thin bone in the forearm on the side opposite the thumb— doesn't fully develop. Mattea's right arm is shorter than the left and has only two fingers.
Despite the condition, no task has ever proved too challenging for Mattea, Grandaw said.
"Her wrist bone in her limb-difference arm isn't strong enough to grip stuff," Grandaw told FoxNews.com, but "she does everything— she rock climbs, does her nails, and paints her two little fingers and she gives me pedicures, she gardens, she bakes."
Connie Toscano, Mattea's prekindergarten teacher, said the same goes for her classwork.

"She writes beautifully, draws beautifully, and can cut [with scissors]. She seems to forge ahead of everything," Toscano told FoxNews.com. "Her special needs situation doesn't affect her at all."
Tuesday, she and her classmates got to hand-wrap their own "Mauvelous Mattea" crayons, named after Mattea, and the little girl also received a gift package, including "Frozen"-themed markers, coloring books and modeling clay.
"She loves blue because she loves 'Frozen'— because Elsa has a special hand like her," Grandaw explained, referencing the Disney princess' hand that has special powers.
The students also got to generate coloring pages from photo booth pictures, do hands-on traditional crafts, and watch their artwork come to life with a station called Color Magic, which scanned their coloring sheets then brought the images to life on an interactive projection screen. Also in the room was Razzmatazz, an 8-foot-tall Crayola crayon character that shared hugs, did "The Hokey-Pokey," and posed for photos with Mattea and her classmates.
"She felt like a movie star," Grandaw said.
Maj. James Grandaw, Mattea's dad, 42, is stationed at Osan Air Base in South Korea, but he made a special appearance in a pre-recorded video that Mattea and her classmates got to watch. In it, he told Mattea how much her coloring has always brightened his day, and thanked his wife for going above and beyond with their girls.
Mattea's family was surprised with annual passes to Crayola Experience and a weekend stay at the Raddison Blu connected to the Mall of America, where the new attraction will open.
"What an overwhelming wonderful experience that exceeded any expectations I had," Brandi Grandaw said. "Mattea felt so special and loved, and didn't quit smiling the whole two hours."