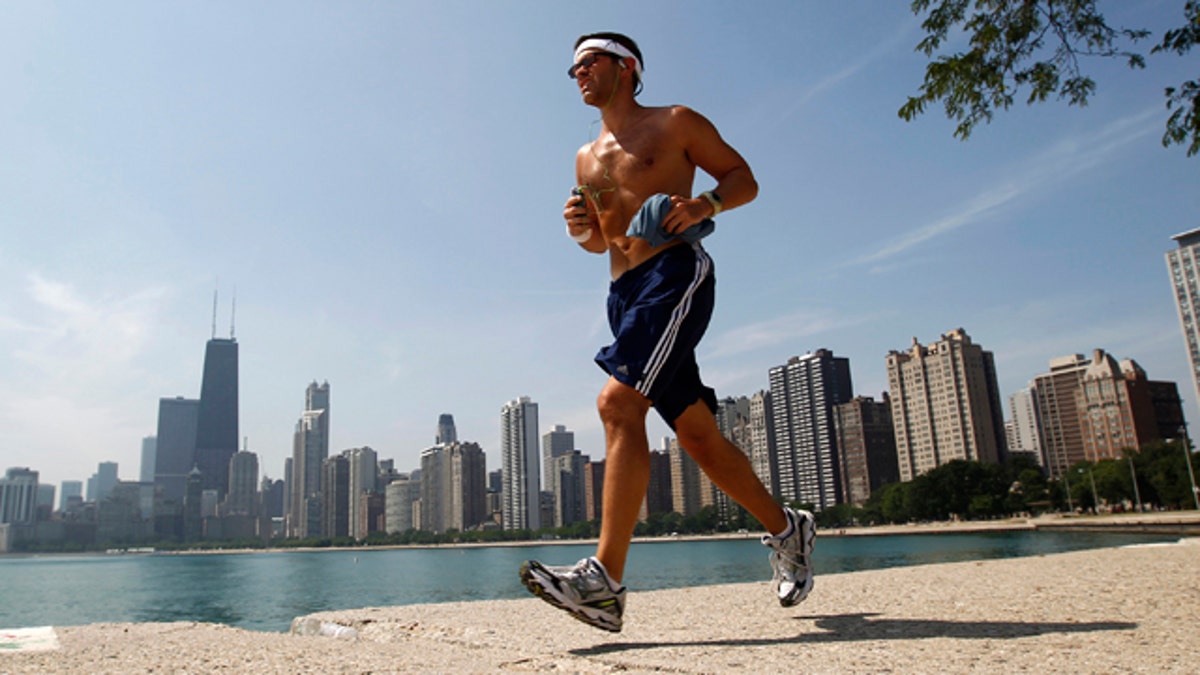 There are a lot of runners on the street these days. No, really—in 2014, for the first time in history, according to a Running USA report, there were more than 2 million people who finished half-marathons in the U.S., with New York City leading the pack in terms of pacing (almost 50 percent of those half-marathon runners were done in under two hours). And it's all for good reason; in addition to strengthening your lungs and body overall, the sport is likely to buoy your mood and let those vanity muscles show.
RELATED: The New Rules of Running: Go Farther, Faster, Longer
But one of the keys to running is consistency, according to Equinox group-fitness instructor and creator of the chain's year-old treadmill-based Precision Running program David Siik. "Don't ever completely take it out of your life, and be consistent with it," Siik told us in an interview over the phone. Pretty easy for him to say considering he's been at it since the age of 9. "It was the only thing I was good at," he said, laughing. "I was very athletic, but I was clumsy. I was a fast football player, but I wasn't good at catching the ball. I was fast on the basketball court, but I couldn't make a shot. I was basically the Forrest Gump in my town."
RELATED: The Fastest Way to Get Ripped
So with the temperature heating up, we asked Siik exactly what we need to know before heading out for a jog during these dog days of summer.
1. Stay hydrated.
Seems pretty obvious, right? "Guys are really really bad at this because they think they are going to be just fine," Siik admonished. "If you go to the bathroom and it's not clear, you've already reached the point of dehydration. Generally the darker, the more dehydrated you are." To get in the amount of liquid fuel you need to be healthy, the lifelong runner says to make sure to start hydrating at least a half hour before hitting the pavement. If your run is lasting longer than 15 minutes, either bring along a water bottle or plan stops by water fountains for quick sips along the way.
Keeping up your H2O levels afterward is just as important, though, as your body needs it to repair itself. Just watch your pee and let it guide you.
RELATED: 14 Healthiest Snack Foods to Buy
2. Change up your schedule.
"If it's really humid, you want to try to run early or later, but you still want to avoid rush hour because that's when air quality is the worst," Siik told us. If you live in a big city, air pollution can be a big problem. Pollutants can affect your intake of oxygen as well as your coordination. Running before the morning rush gets you out before the majority of cars are on the road, and it'll likely be early enough that the heat itself hasn't set in.
RELATED: Eat Your Way to a Better Sex Life
3. Rethink your gear.
Stop heading out in your cotton cut-off tee from high school—it can't hack it. Siik advises that you trade it in for a light, moisture-wicking top that's going to keep you dry. While he does highly recommend Nike Running's new Dri-Fit Cool Tailwind Tee, he admits that it's not all about the big brands. "Definitely look at all of the more specialty running brands like Brooks and Saucony. They just put so much time and effort into the technology of their gear because that's all they do."
RELATED: The Only 5 Exercises You'll Ever Need
4. Use sunscreen.
When it's normally really hot outside, we all gravitate toward the shade and the older women in our life throw sunscreen our way. Running is no different. "The sun makes the heat so much more intense on your body, so even if it's humid, just try to run a route in the shade." And yes, even on a run, you need to get in some SPF. Try out Neutrogena's Dry-Touch Sunscreen about 30 minutes before and then, if you're on a long run, feel free to reapply.
RELATED: Brad Pitt Is Back and Sexier Than Ever
5. Listen to your body.
Sometimes, running outside just isn't meant to be. "I know it's my specialty, but don't be embarrassed to just get on a treadmill," Siik reasoned. "The thing is that you can get such a better workout inside on a treadmill doing intervals than struggling through 90-degree weather." In fact, not only could you get a better workout on the treadmill but by toughing it out in the sun, you could actually do damage by straining yourself. Siik's rule of thumb? "If within the first five to 10 minutes you're feeling very flushed and abnormally fatigued, you should go inside." Don't worry, no one is going to care once you take off your shirt for those last few beach days.