Who has the best chicken sandwich: Chick-fil-A, ChickenShack or Fuku?
In case you haven't heard, chicken sandwiches are making a major come back.
Chick-fil-A was recently named America's favorite  fast food chain in a consumer satisfaction survey, but it will soon face some stiff competition in the flavor department from other eateries trying to amp up a classic fried chicken sandwich.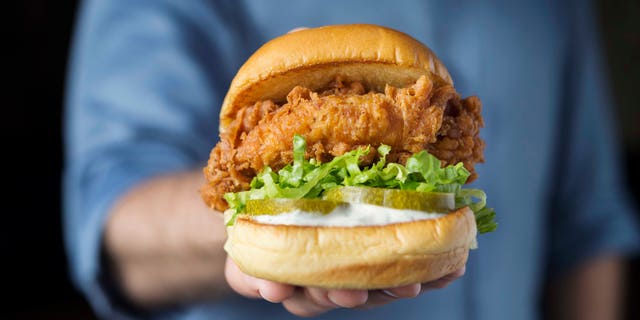 We set out to taste two of the hottest sandwiches in New York City to see how they measure up to the current king of chicken.
Earlier this month, Danny Meyer's Shake Shack debuted the ChickenShack at three Brooklyn, New York locations. The sandwich release was so popular that they sold out in just two days and had to put the item on hiatus while they restocked.
And for those with a more adventurous palate, superstar chef David Chang recently opened Fuku—a chicken sandwich-only outpost in New York City, but rumor has it that the chef hopes to roll out his concept beyond The Big Apple. His spicy chicken sandwich uses tender thigh meat marinated in habanero puree and buttermilk heaped on a Hawaiian-style bun with a specialty daikon radish slaw.
To put these sandwiches to the ultimate taste test, we enlisted the help of Village Voice food critic Zach Feldman and former "Top Chef" contestant Jeff McInnis, the executive chef and partner at Root & Bone, a modern Southern restaurant with acclaimed fried chicken.
First up, Chang's Fuku sandwich.
One thing all of our tasters noticed was the massive portion of meat.
"The bun barely covers this thing," McInnis noticed. "Maybe since they're new they want people to know they can really get a good value."
The sweet Hawaiian bun may not be doing the sandwich any favors but everyone was blown away by the crispy, thoroughly spicy chicken topped with a tongue-soothing slaw. And while many Americans shy away from dark meat, both McInnis and Feldman believe the thigh has an advantage over the breast, which can easily dry out.
"The thigh meat can definitely stand up to this heat," said Feldman.
While Chang's chicken sandwich is chock full of flavor, the ChickenShack may have a more universal appeal. Served on a big fluffy bun with herbed aioli, this sandwich had the crispiest coating of the three—possibly due to do a wet batter preparation. No bland breast here—each bite was juicy and crispy, accented by pickles and shredded lettuce.
"I love it," said McInnis.  "This is definitely a crowd pleaser and would probably please the majority of the population."
By comparison, Chick-fil-A's Original Chicken Sandwich was straightforward and tasty but the chicken was pretty dry. All three tasters had problems with the general blandness of the meat but the national chicken chain offers an array of specialty dipping sauces for their nuggets and sandwiches. A big plus for the Chick-fil-A sandwich is that its available pretty much everywhere.
Bottom line? The ChickenShack could easily be America's new favorite chicken sandwich and if your taste buds can stand a little tingle, Fuku serves an unforgettable sandwich.  But if you're looking at your pocket book, Fuku comes in at $8, ChickenShack is $6.29 and Chick-fil-A's original Chicken Sandwich is around just $3.
Whatever you do-- stock on up on the wet naps.