Secrets of the Southern Christmas Dinner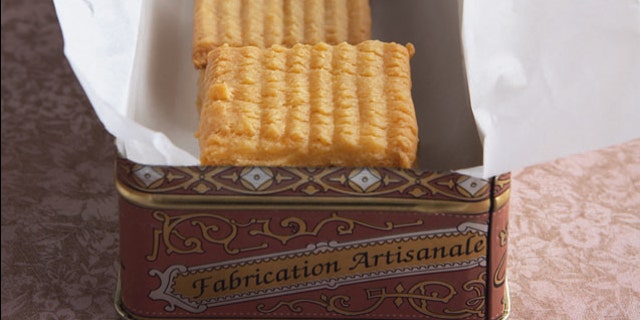 "Divinity" that has nothing to do with the divine, "dressing" that isn't poured on salads and "ambrosia" that does not reference the food of the Gods are all hallmarks of a Southern Christmas. Sugar, corn syrup, egg whites and vanilla comprise divinity, a soft and chewy, white fudge-like confection. Dressing is stuffing that's served on the side, as Southerners prefer dressing their turkeys to stuffing them. Ambrosia blends supremes of oranges (orange slices without skin, pith, membranes and seeds) and coconut.
"One of my most vivid memories of Christmas is of my grandmother cooking all day on Christmas Eve and my grandfather right there with her, hand-grating the coconut and slicing the oranges," says Chef Virginia Willis, creator of the My Southern Pantry line (heirloom grits, pecan brownies, pecan smoked salt, French Quarter spice rub) and author of Bon Appetit, Y'all: Recipes and Stories from Three Generations of Southern Cooking (Ten Speed Press).
Ambrosia has just these two ingredients, says Willis, allowing coconut milk for extra moistening and sugar if desired. The pineapples, marshmallows and maraschino cherries that sometimes appear are post-WWII additions, she sighs, disappointment apparent despite her southern gentility. Traditional southern cooks would never use them.
Southerners have a particularly close relationship with food because "ours always came from the land," says the Georgia native. "It wasn't purchased. We grew it, harvested it, raised it and killed it." Watercress is foraged from the rivers, mushrooms from forests. Corn is eaten fresh or creamed in summer, then dried into meal and grits. Fruits are preserved, vegetables are pickled, meats are cured and smoked. Pork predominated in the south as pigs ate scrap and raising them required little land; pastures were saved for crops. She points out that fowl has dominated the south only in the last half of the twentieth century. Historically, fowl was "gospel bird," reserved for Sundays or celebrations.
Willis' mother, Virginia, and her maternal grandmother, Emily Louise Wingate Baston, ("Meme") who grew up near Hephzibah, Georgia, instilled in her a reverence for traditions and the foods they engendered. Meme made butter and cheese, raised crops, stocked her root cellar, killed hogs, cured hams in the smokehouse and milked cows until one kicked her. That year Meme packed her freezer with beef rather than pork. After earning a history degree from the University of Georgia, Willis ended up interning (on her days off) on southern cooking doyenne Nathalie Dupree's landmark cooking show.
Dupree, founder of the New Southern Cooking Movement, encouraged Willis to go to culinary school. After graduating from D.C.'s La Academie de Cuisine, Willis went on to Ann Willan's Ecole de Cuisine La Varenne in Paris. After graduating, she spent the next three years working for Willan. During that time she had the great good fortune to cook for Julia Child and Patricia Wells, cookbook author and food critic for The International Herald Tribune for twenty-seven years.
Willis emerged from this culinary crucible "determined to continue working with great people." She came back to the States completing stints with Bobby Flay and Martha Stewart before returning, nearly a decade ago, to "my beloved South." There she laid the foundation for her own style of southern American cooking, which combines classic French techniques and ingredients with Southern ones.
She lightens cornbread dressing with brioche and adds dried plums (i.e. prunes, classically French) to pork chops. She substitutes pecans for almonds in traditional French spiced nut recipes and uses a whisk in "Creamy Stone-Ground Grits with Mushrooms and Country Ham." "I can pretty much guarantee that Meme never whisked her grits," she chuckles. She takes a southern staple, beef and black pepper that would usually be batter-fried and crusts it with crushed peppercorns, a technique called "au poivre" ("with pepper.")
While the "Pepper-Crusted Beef" recipe also calls for golden raisins and cognac, Willis says Bourbon is just as good. Which is why she okays using bourbon in all her recipes that call for cognac. This tidbit uttered, by the way, as she takes a warming sip of the stuff. True to her roots Willis of course includes: "Meme's Fried Chicken and Gravy;" "Pimento Cheese in Cherry Tomatoes" (the "Pâté of the South"); and "Mama's Pecan Pie." The recipe, she says, produces the proper "pecan-to-goo" ratio.
The region's ten-month growing season and resulting bounty makes the Southern Christmas table unique, says Willis. Winter is the beginning of the citrus harvest, she says, hence ambrosia and the oranges that were placed in her childhood Christmas stockings. Pecan pie comes courtesy of November's harvest. Oysters are in season in December which is why Oyster Dressing shows up at Christmas. It's like a bread casserole of dried cornbread, soupy with oysters, stock, eggs and aromatics till baked. Christmas, she adds, was historically more significant to Southerners who were initially resistant to Thanksgiving, which they regarded as a Yankee holiday.
Christmas means having "little nibbles" like spiced and sugared nuts or cheese straws on-hand for when people stop by or to package as hostess gifts. The latter are usually made with puff pastry but Willis' grandfather's were like ribbons of savory shortbread—flour, butter, cheese and cayenne—pushed through a cookie press like Play-doh. "He was known for them," she says. Candy, of course, was everywhere. Willis remembers the candy thermometer coming out as soon as Thanksgiving was over and staying out for the duration, for divinity, peanut brittle and fudge.
Pecan Pie, Pound Cake and Coconut Cake are classic Christmas desserts, along with Caramel Cake, a multi-layered yellow cake with a caramel frosting that has a praline-like consistency. It's the ubiquitous and infamous Southern sweet tooth. "We can't resist it," she says. And not just with desserts. Only a Southerner, says Willis, would add massive quantities of butter and sugar to sweet potatoes and "still regard them as a vegetable." How about adding a shot of bourbon? "Not a problem," she laughs.
-----
Dede's Cheese Straws
Makes about 6 dozen
When I was growing up, our nibbles were most often the cheese straws made by my grandfather, whom I called Dede. Dede was a tall, strapping man who knew the secret of a long, happy marriage to his iron-willed wife. As he put it, his blue eyes twinkling, he always got in the last world "Yes, beloved."
Dede would layer his cheese straws in a tin lined with sheets of butter-stained waxed paper smelling of sharp cheese and peppery cayenne. Everyone loves these cheese straws—I once caught a party guest stuffing his pockets with them.
A cookie press is needed to make these savory crackers. I prefer the version that resembles a caulking gun, although a turn-crank one will do. Some hard-core cheese straw makers invest in the electric version!
11/2 cups all-purpose flour
1/2 teaspoon fine sea salt
Pinch of cayenne pepper, or to taste
1/2 pound sharp Cheddar cheese, at room temperature, freshly grated
1/2 cup (1 stick) unsalted butter, at room temperature
Position the oven racks in the top and bottom thirds of the oven. Preheat the oven to 375°F. Butter 2 baking sheets.
To make the dough, in a small bowl, combine the flour, salt, and cayenne. Set aside. In a heavy-duty mixer fitted with the paddle, cream the cheese and butter on medium speed until smooth and well combined. Gradually add the flour mixture. Mix on low speed until smooth. (The dough can also be made in the bowl of a large food processor: grate the cheese with the grating blade, then transfer the cheese to a bowl and insert the metal blade. Pulse the dry ingredients to combine, then add the butter and cheese. Process until smooth.) Cover the bowl with plastic wrap and set aside to rest for about 15 minutes.
To shape the dough, work it in your hands; it should be soft and pliable (like Play-Doh). Shape the dough into a cylinder and pack it into a cookie press fitted with the serrated ribbon disk.
Holding the cookie press at an angle to one of the prepared baking sheets, press the trigger twice, dragging the press away to make a long straw the length of the baking sheet. Repeat until you've covered the sheet, spacing the ribbons of dough 1 inch apart. Using a
butter knife or offset spatula, cut each ribbon into 1- to 2-inch pieces. Repeat with the remaining dough and the other baking sheet. (If your cookie press extrudes the dough in fits and spurts, simply pick up the dough and reuse.)
Bake the cheese straws, rotating the baking sheets once, until lightly browned on the edges, about 20 minutes. Remove the baking sheets to a rack to cool slightly. Using an offset or slotted spatula, remove the individual cheese straws to cool completely.
Making ahead: Store the cheese straws at room temperature in an airtight container between sheets of waxed paper. They will keep for 2 to 3 weeks.
Reprinted with permission from Bon Appétit, Y'all: Recipes and Stories from Three Generations of Southern Cooking by Virginia Willis, copyright © 2008. Published by Ten Speed Press, a division of Random House.
Photo credit: Ellen Silverman © 2008.