Savory yogurt is here to save you from the super sweet
The love of Greek yogurt has helped forge a billion dollar industry in just a few years due to its smooth, creamy texture.
But nearly as long, nutritionists have been raising the alarm bells over the sugar content in sweet flavors of the fermented milk--which can sometimes be more than candy.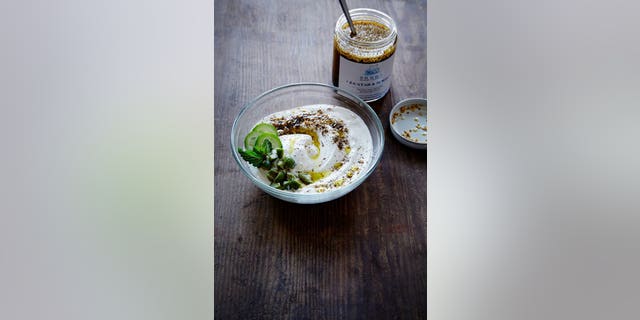 Now a new trend is kicking sugary yogurt to the curb in favor of savory toppings and spices like olive oil, cucumbers, seeds and garlic.
"Growing up in Lebanon, we ate yogurt for breakfast, we ate it as a snack, we ate it for dinner," Angela Fout, founder and COO of New York-based Sohha Savory Yogurt, told Chew on This. "When I think of yogurt, I don't associate it with sweets the way most Americans do."
When Fout and her husband John opened Sohha, they were concerned by yogurts on the market that contained a lot of sugar and preservatives. Sohha's yogurt contains just three basic ingredients—milk, probiotic cultures and sea salt, based on a recipe passed down by Angela's mother. The tangy yogurt is similar to plain Greek yogurt with a slight tang but their original yogurt is like a less thick version of crème fraiche.
In 2013, the couple opened its first brick and mortar in Chelsea Market to highlight the fermented milk's lesser known side. Two of their bestsellers include "Za'atar Bliss," yogurt topped za'atar (a popular Middle Eastern spice mix containing sesame sees, thyme, sumac and salt), extra virgin olive oil, cucumbers, mint, olives and "Hot Harissa" topped with tomatoes, cilantro, scallions, harissa-infused extra virgin olive oil, and pine nuts.
"We want people to think outside the box when it comes to yogurt. Whether you use it as a marinade [the acid in yogurt tenderize meat without cooking it like juice], a replacement for sour cream or a sauce on its own," says John Fout.
A 6 ounce serving of Sohha is 200 calories and contains four grams of sugar. Compare that to Fage Total 2 percent honey yogurt contains 29 grams of sugar.
Chobani, too, has taken notice of America's changing taste buds. The yogurt giant, which is still increasing overall market share in the the yogurt space, with $7.9B in retails sales in 2015, is expanding its line with two spicy-sweet yogurts available nationwide.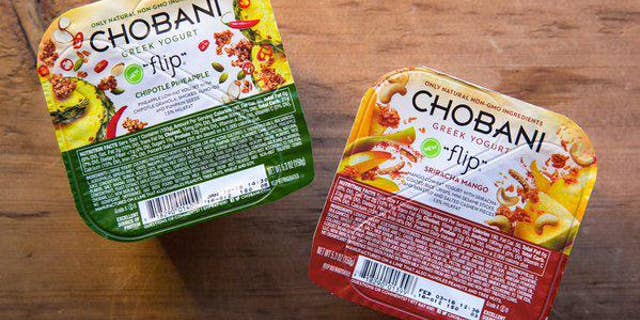 Sriracha Mango features low-fat fruit yogurt with a side of crunchy toppings: Sriracha-coated Rice Crisps, little sesame sticks, and salted cashew bits. The new Chipotle Pineapple has chipotle granola, smoked almonds and pumpkin seeds.
Chobani says it recognized Americans are "hungry for spice."  But do their new offerings satisfy?
Most of our Chew on This tasters were underwhelmed by the spice and flavor of the new yogurts.
Some enjoyed the individual components, but mixing the toppings and fruit flavored yogurt didn't live up to Chobani's other fruit flavors.
"It would just be better if they had plain yogurt here. The sweetness of the mango is overpowering the spice but the overall result is just kinda bland," said one taster.
"Chobani should just stick to the sweet stuff until they're ready to make something really unique," said another.
When comparing Chobani to Sohha's, savory consistency won out. Sohha's signature creation —creamy yogurt topped with roasted pine nuts, poppy seeds, sesame seeds, garlic, onion and extra virgin olive oil --called the "Everything Bagel" was a hit with our New York City tasters.
"This is like heaven. It's onion-y and salty and the yogurt is almost like a thinner cream cheese…just like a bagel without the carbs!" said one taster.
As consumer continue to look for low-sugar yogurt products, companies will be looking for new ways to satisfying people's spicy-not sweet-tooth.