Report alleges Hampton Creek faked hundreds of thousands in sales and environmental impact claims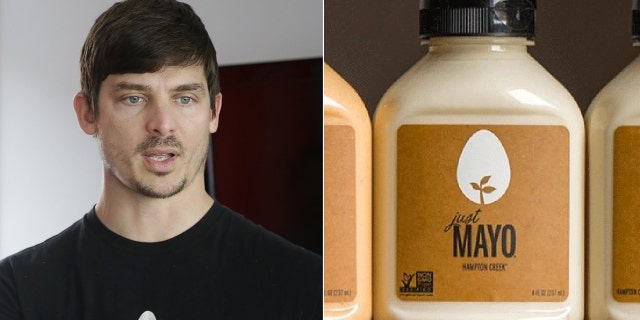 Hampton Creek, the San Francisco-based food startup known for its vegan mayo, has been embroiled in controversy since its founding just a few years.
After surviving an egg industry plot to put it out of business, the company faced a year-long legal battle with mayonnaise powerhouse Hellman's and the FDA over its use of the word mayo. In August, a Bloomberg report revealed that the company used undercover agents—known as "Creekers"-- to buy hundreds of jars of its own product Just Mayo and talk up egg-free spread in stores.
Last month, Hampton Creek CEO Josh Tetrick claimed the buyback program was just a quality control measure that only cost the company about $77,000 total. But now, Bloomberg says a company statement shows the company spent more on buybacks in July 2014 ($510,000) than it took in in sales ($472,000).
According to the internal sales sheet, the buybacks were concealed under various names including one line item in 2014 called "Inventory Consumed for Samples and Internal Testing." Over a period of five months, that item (which Bloomberg alleges is just a fancy name for any Creeker-related program) totaled about $1.4 million, while net sales in the same period were $1.9 million.
In addition to the buyback program, another allegation brough to the forefront is Hampton Creek's allegedly inflated argument that that plant-based products use fewer natural and agricultural resources than animal products.
In the early stages, the company received a lot of attention due to its high profile investors like Bill Gates and Peter Thiel and lofty goals of sustainability. For example, the company said for years that one jar of Just Mayo used 80 gallons less water to make its ingredients than a jar of regular egg-based mayonnaise. But in April, employees received a memo the company's vice president for business operations Sofia Elizondo that basically said the math was wrong.
"You can say something like: 'Pea protein saves 1.3 gallons of water for every jar of 30 oz Just Mayo,' "  Elizondo allegedly wrote and asked Hampton Creek employees to stop touting previous claims. The company never released a public statement retracting the exaggerated information it had been touting for years but just took it off the website and social media pages.
The company is under fire for allegedly misleading investors about its sales figures. Now, a former darling of the vegan food movement is under investigation by the U.S. Securities and Exchange Commission and the Justice Department to determine if any sort of fraud was committed. If the Justice Department uncovers illegal activity, criminal charges could be brought forth.