Redditor turns Red Lobster's Cheddar Bay Biscuits into a bundt cake
NEWYou can now listen to Fox News articles!
Red Lobster is known for many delicious menu items — shrimp linguine Alfredo, southwest-style tacos, rock lobster and steak — but it's most famous for those delectable little dinner biscuits. In fact, one Redditor likes them so much that he made an entire Bundt cake from the store-bought mix.
It all started with an episode of "Charlie teh Unicron," a spinoff show of YouTube sensation "Charlie the Unicorn." Through a series of complicated twists and turns, a cartoon character delivers a sadistic punch line about Red Lobster's biscuits: "I straight-up murdered my cousin for a basket of them."
Reddit user superflossman — also known as Jon — and his two sisters latched onto the line and frequently used it as an inside joke. And in 2013, he headed off to college and discovered that one of his siblings left a gag gift of the mix hidden among his books.
"I can't really tell you if it was a heartfelt goodbye present or just a mid-tier troll, but when I discovered it in my dorm, I knew that I had just witnessed the opening shots of a long and epic conflict," Jon told The Daily Meal.
Over the next few years, he and his siblings humorously re-gifted the box to one another whenever Jon visited home. But in 2017, an even bigger idea was consummated.
After discovering that boxes of the mix were on sale for less than $2 at the supermarket, Jon bought more than a dozen and presented them to one of his sisters as a Christmas gift. Weeks later he was putting clean dishes away when he stumbled upon a Bundt pan. With a little persuasion, his sibling joined him on a "culinary journey that was so dumb, it was smart."
So with two boxes of mix, water, and shredded pepper jack cheese — a cake was born. They were even able to recreate the delicious garlic butter glaze used in-restaurant.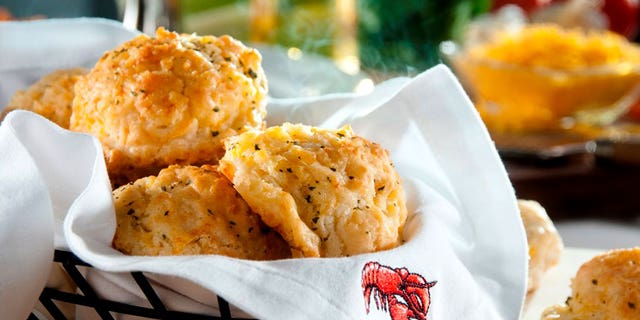 "I mean, it's everything we crave — salt, fat, carbs — just in excess," Jon said. "If I had to describe the flavor, or perhaps more appropriately, the apotheosis of my taste buds, I would say it tasted like sin in all its resplendent glory."
But the finished product didn't stand a chance in Jon's house. After sharing the news with his parents, the cake was demolished within 24 hours. So a few days later, he made a second one.
"This is the kind of food that your body (or sense of dignity) can only weather so many times, so we have not made it since. The remainder of the biscuit mix boxes I bought for my sister have since been donated to a local food pantry," Jon said. "I've no doubt that we'll have some other farfetched culinary ideas in the future, and I look forward to bringing them to fruition."
For more on the Florida-based chain that made this brilliant biscuit Bundt cake possible, check out these 9 things you didn't know about Red Lobster.