Recipes That Won't Make You Stink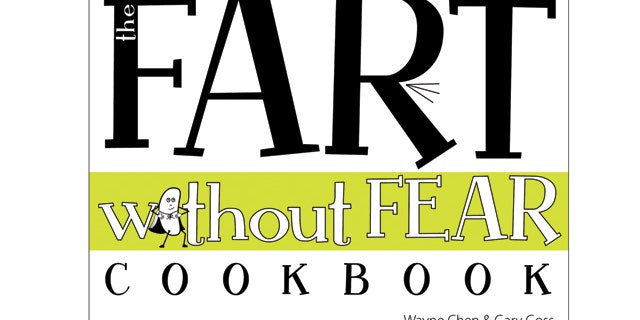 The name of the yoga position pavanamuktasana translates to "wind-removing pose" in English. That's a pretty goal-specific contortion for an activity held in an enclosed and unusually quiet space with lots of people you don't necessarily know. Seriously, you might as well just stand in front of a fan and yell, "Incoming." Gary Goss and Wayne Chen promise to help you avoid one aspect of that Karmic retribution with "Fart Without Fear: Comfort Food for Uncomfortable Times." Goss is a best-selling cookbook author (Blue Moon Soup) and restaurateur who created the recipes. Chen, a former NASA aerospace engineer, is an expert on propulsion. Really.
Google "fart-related things" and you'll see millions of page hits, says Chen. "People love them. Farts make them laugh." Leslie Nielson knew that. When "Airplane!" gave him a second career in comedy, Nielsen almost always squished a whoopee cushion during interviews, especially live ones, where the sound couldn't be edited out. And only the most uptight among us find fault with the bean-fueled campfire scene in the aptly-named "Blazing Saddles." But laughing at these simple pleasures when they occur in-person is frowned upon as we age, says Chen, as denial comes to replace admiration and joy.
Denial starts at an early age, he says, "when everyone learns what publicly what they're supposed to admit to enjoying or not enjoying." But secretly, he says, "Both men and women enjoys farts." "Enjoy," he clarifies refers to sound, not scent. He acknowledges that gender definitely plays a role, noting that women take up the reins of denial earlier and hang on for dear life. For men, privately, it's all about a pride of ownership that starts, says Chen, "at six-years-old and goes till death."
While the usual high-fiber suspects like beans, broccoli and Brussels sprouts aren't exactly innocent bystanders, they suffer unfairly from guilt by association. The digestive system breaks down their fiber, cellulose and sugar and produces high-decibel, gas but the aftermath doesn't clear a room. That's a key insight, says Chen. Beano, the brand name of an enzyme you can take with high-fiber foods, reduces total gas output but ignores aroma. "And that's where we come in," he says.
Chen and Goss had lost touch by the time they met up at their fortieth high school reunion. They joked about doing something "as rude, fun and politically incorrect as we did in high school," says Chen. Turns out "fun" was comfort foods, "rude" was farting and "politically incorrect" was discussing and enjoying the latter. Their female publisher immediately saw the book's potential as a kind of self-defense manual for women who were "tired of getting blown out of the room" during the Super Bowl and other male-oriented festivities.
Chen and Goss discovered that comfort foods are high in two sulfur-based amino acids, methionine and cystine. Animal protein, shellfish, tuna, certain cheeses, some flours and oils contain large amounts of these odor-causing compounds. Favorites like chicken fried steak and gravy, macaroni and cheese, and turkey club sandwiches are loaded with them. When your digestive system breaks down methionine and cystine it releases their sulfur molecules. They combine with hydrogen molecules that are already present in the body to create hydrogen sulfide, the foul-odor source.
Knowledge is power, so Chen and Goss reasoned that if they reduced methionine and cystine levels people could still "express their individuality" (i.e. fart) without offending others. Relationships - familial, interpersonal, professional - are enough of a challenge without the added complexity of human gas. Not to mention the social benefit to elevator users, public transportation riders and moviegoers. Big Brother may not be watching but he's certainly sniffing.
Fart Without Fear (FWF) provides regular recipes and FWF versions which provide substitutions for methionine- and cystine-packed ingredients. They rate each recipe on an odor index scale they created using a Boston Baked Beans recipe as a control. A small graphic of a rear-end indicates a food's odor rating. Each recipe is given between one (least offensive) and five butts (most offensive). Recipes of six butts or more are represented by a mushroom cloud.
Buttermilk chicken fried steak and gravy, for example, rates a cloud. The FWF recipe substitutes oat flour for all-purpose flour, egg whites for whole eggs, and cube steak for eye of round steak. You can make potato skins and bacon less noxious by substituting Cheez Whiz for cheddar, or render pulled pork's aftermath more pleasant by using pork shoulder roast instead of pork butt. Enjoy more and offend less.
Passing gas was a consideration in the early days of space exploration, says Chen. During the Mercury and Gemini programs NASA didn't know if, in space's zero gravity and a ship's low-pressure environment, gas would cause serious abdominal pain, potentially to the point of rupture. "Those concerns were part of the basis for the food the astronauts initially brought aboard," he says. Safety concerns allayed, astronauts were free to push the envelope.
There was curiosity in the mid-1970 Skylab days about whether a very small force could set an astronaut in motion. After downing some bananas, an astronaut curled into fetal position and "let one rip," says Chen. The astronaut spun like a pinwheel until his crewmate stopped him.
----------
Chicken Fried Steak
1/4 cup all-purpose flour – or 1/4 cup oat flour
2 large egg whites – or 2 medium egg whites
1/4 cup cornmeal
1/4 cup wheat flour
5 tbs. cornstarch
1 tsp. paprika
1 lb. cube steak – or 1 lb. eye of round steak
3/4 tsp. kosher salt
1/2 cup ground pepper
2 Tbs. canola oil
14 oz. low sodium beef broth
1 Tbs. Water
1/4 cup half-and-half
Stuff to Do:
• Preheat oven to 375 deg F.
• Coat a baking sheet with cooking spray.
• Place all-purpose flour on a large plate. Place egg whites in a shallow dish. Whisk cornmeal, whole-wheat flour, ¼ cup cornstarch and paprika in another shallow dish.
• Season both sides of the steak with ½ teaspoons each of salt and pepper. Dredge the steak in the flour, shaking off excess; dip floured steak in the egg whites; then dredge in the cornmeal mixture. Cut the steak into four equal pieces.
• Heat 1 tablespoon oil in a large nonstick skillet over medium-high heat.
• Reduce heat to medium and add 2 pieces of the steak. Cook until browned on both sides, turning once, 3-5 minutes total.
• Transfer the steak to the prepared baking sheet and repeat with the remaining 1 tablespoon oil and 2 pieces of steak.
• Transfer the 4 pieces of steak to the prepared baking sheet. Place baking sheet in the oven and bake until steaks are cooked through (about 10 minutes).
• Meanwhile, add broth to the skillet and boil over medium-high heat, stirring occasionally, until reduced to about 1 cup (3-5 minutes).
• Whisk water and the remaining 1 tablespoon cornstarch until smooth in a separate bowl.
• Remove the skillet from the heat and stir in the corn mixture.
• Return to heating and cook, stirring until thickened (1-2 minutes). Stir in half-and-half. Season with the remaining ¼ teaspoon salt and pepper.
• Serve the steak topped with the gravy.
Serves 4