Family 'horrified' by 'polite notice' restaurant staff hands out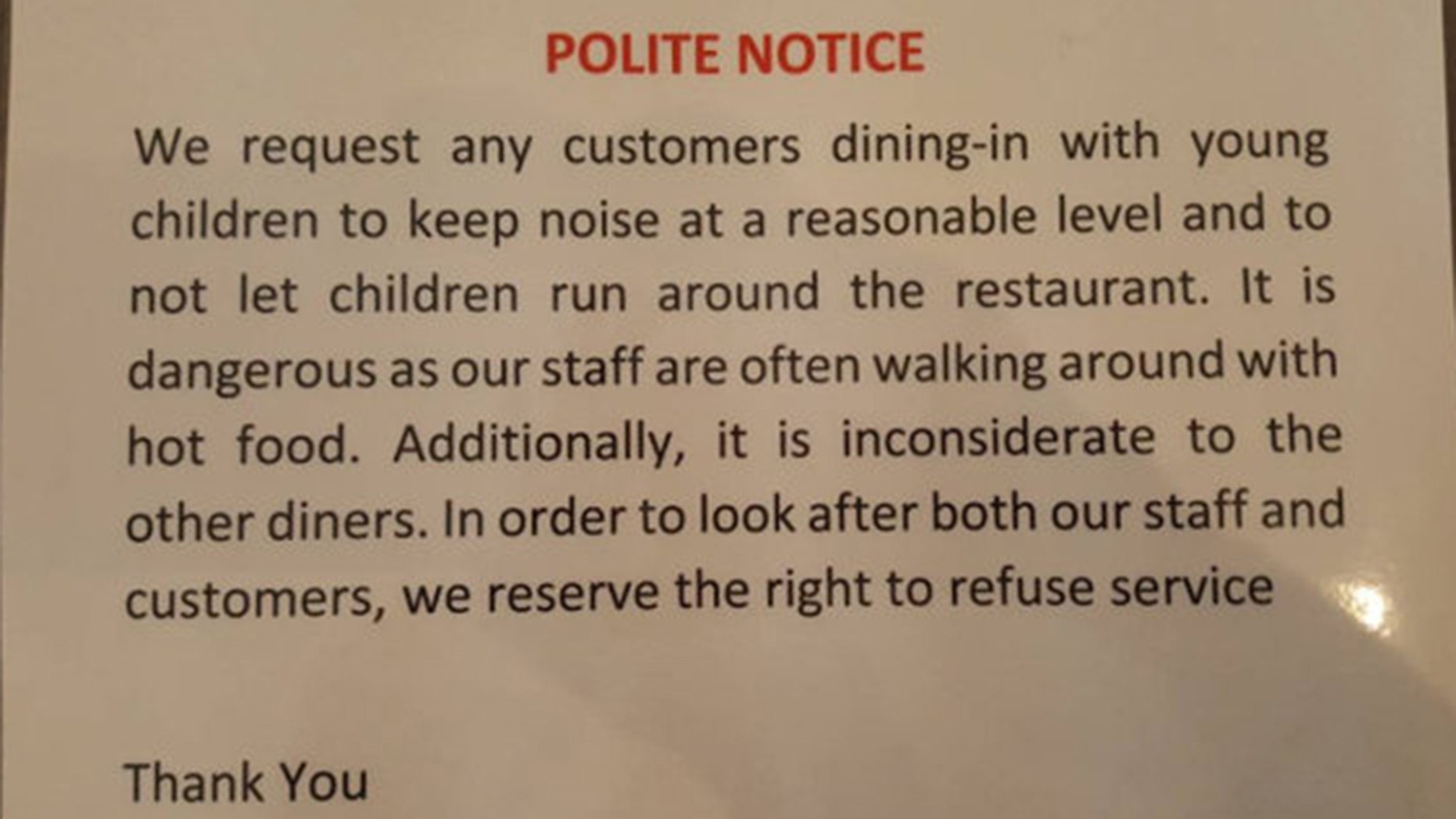 A Nepalese restaurant in the UK has left a bad taste in one family's mouth after handing out a card informing parents to keep their children quiet while dining.
The restaurant, Nepalese Chef, in Gloucester has issued the laminated "polite notice" several times to families with small children, and claims no one else has been upset.
FLORIDA PIZZA RESTAURANT BANNED CHILDREN, AND MANY ARE NOT HAPPY
"We decided to hand it to anyone that turns up with young children to remind them that they have to be seated and children should not run in the restaurant due to hot food," the restaurant owner Kashi Sharma said to SWNS, adding that most people were "absolutely fine with it."
The notice was created after the restaurant experienced some issues with small children running around. It reads: "We request any customers dining-in with young children to keep noise at a reasonable level and to not let children run around the restaurant. It is dangerous as our staff are often walking around with hot food. Additionally, it is inconsiderate to the other diners."
However, Sandeep Amin, who was visiting the restaurant to celebrate his birthday with his wife and seven-year-old daughter, was "shocked" and "horrified" by the notice.
"Once we got seated within two minutes our waiter turned up with this white laminated sheet on which it was written people with children should ask their children to be quiet and not disturb other guests," he said to SWNS. "I was shocked as my daughter is seven years old... She has no habit of creating chaos anywhere in public places."
Amin added that he was "greatly offended" by the notice.
"I felt so embarrassed so I decided that it was going to be a bad birthday celebration and suggested to my wife that we would be better off leaving such a rude place," Amin told SWNS.
FOLLOW US ON FACEBOOK FOR MORE FOX LIFESTYLE NEWS
Amin said he and his family left the restaurant because of the "rude" note, but Sharma insists the notice is not meant to be taken that way.
"When Sandeep and his family were given the notice with the menu they said it was rude and walked out. We said sorry and this a polite rule we give to everyone," he explained to SWNS. "Children are always welcome in the restaurant and we even give them lollipops."