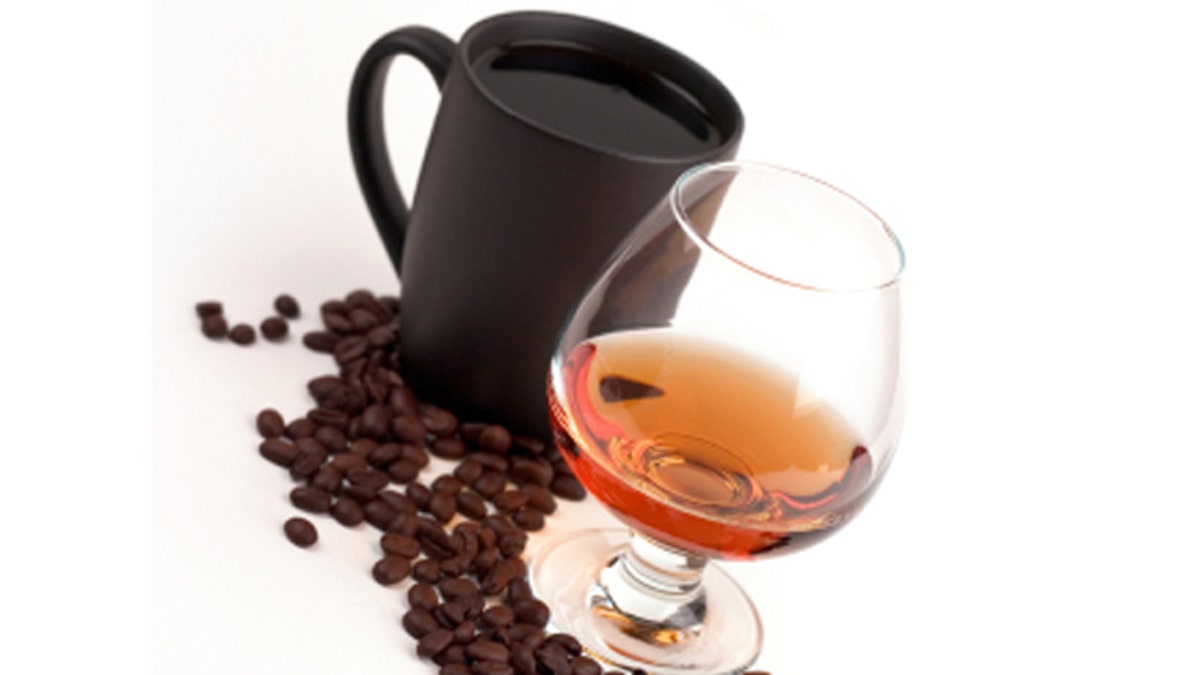 Every morning in households across the country people climb from their beds bleary-eyed, groping blindly for that first cup of coffee. Only after the dark ambrosia takes effect does the day truly start. Whether that first cup is brewed at home, grabbed in a hurry at a Dunkin' Donuts or snagged from a heavily pierced barista with an attitude problem, coffee is a necessity for a huge number of people. But add a little booze to the mix and it becomes a sinful indulgence.
There's a wide range of coffee cocktails out there - from the classic warmth of an Irish coffee to the dessert-like Cafe Brasileiro. Not particularly well-suited to an early morning, these generally fit in nicely post brunch or dinner. They also work particularly well after coming in from the cold - a warm mug of coffee spiked with whiskey or rum does wonders for frostbitten attitudes. And while there are some mornings before work when that evil little voice says a splash of the sauce in the travel mug would boost productivity, it's best to ignore it and save these cocktails for more relaxing times, even if Starbucks is adding alcohol to its stores.
Irish Coffee - The best-known of all coffee drinks, Irish coffee is a classic for good reason. The bitter bite of coffee blended with the caramel-tinged sweetness of quality Irish whiskey is one of the most satisfying combinations in the cocktail world. It's warming, soothing and caps off virtually any day. Oddly, bars and restaurants have taken to serving this cocktail up in a cocktail glass, often bedazzled with mounds of whipped cream. However, Irish coffee belongs in a heavy mug, free of adornment or overly sweet garnishes. Much like Steve Buscemi, it ain't pretty, but it gets the job done.
• 1 cup hot coffee
• 1 1/2 oz. Irish whisky (Jameson has just the right balance of grain, oak and caramel notes)
• 1 tsp sugar (if you prefer your coffee a little sweeter)
Mix together in a mug and don't let a can of Redi-Whip get within a country mile of it.
Cafe Brasileiro - On the other end of the spectrum is the Cafe Brasileiro, an indulgent concoction that is tailor-made to act as the exclamation point on a heavy, cold-weather meal, despite the warm latitudes where its main ingredients hail from. With vanilla, chocolate liqueur, heavy cream, simple syrup and a healthy dose of Brazilian cachaca, it's rich and far more complex than its heavily sweet components would have you imagine. The coffee and cachaca offer warm spice and an acidic bite to counteract all of the sugar, making this a gorgeous and tasty drink to come in from taking the kids trick or treating for.
• 1 1/2 oz. cachaca
• 1/2 oz. chocolate liqueur (Trader Vic's is a nice fit here – adding solid chocolate flavor without being overwhelmingly sweet)
• 2 1/2 oz. fresh hot coffee
• 1/2 oz. simple syrup or agave syrup (if you want to add some peppery notes)
• 2 oz. heavy cream
• seeds from one vanilla bean
Add the seeds from the vanilla bean to the heavy cream and shake until frothy in a cocktail shaker. Then stir the other ingredients into a clear mug and carefully pour the vanilla cream on top of the drink. If you do it right it'll form a layer on top of the coffee. If you don't do it right, it'll still taste amazing.
Spanish Coffee - Less well-known than Irish coffee but no less of a classic, Spanish coffee provides a little continental flair by adding brandy to the mix. The warm burn of the spirit compliments the acidic coffee and raises the sophistication level a few notches while a touch of coffee liqueur provides a sweet backdrop. It's the nightcap you've always dreamed of, and whipping one of these up for a date rarely fails to score some serious points.
• 3/4 oz. brandy
• 1/4 oz. coffee liqueur (Kahlua is a solid choice, but Thatcher's Coffeehouse Liqueur is even better if you can find it)
• coffee
Add the brandy and coffee liqueur to a snifter and top off with coffee. Stir and add whipped cream to your heart's content to this one.
Monk's Coffee - Full of distinctively flavored liqueurs, this drink relies heavily on the coffee itself to tie together each spirit and combine them into one cohesive whole. As long as you're using a fairly intense and full-flavored brew, this alchemy tends to be an unqualified success - no small feat when you're involving almond, hazelnut, chocolate and orange. It's a sophisticated drink that's at home in the backyard around a fire pit or in the living room by the fire.
• 1/4 oz. Amaretto
• 1/4 oz. crème de cacao
• 1/4 oz. Frangelico
• 1/4 oz. orange liqueur (Harlequin has some beautiful orange flavor and plays off the other liqueurs extremely well)
• coffee
Mix the liqueurs in a snifter and add the coffee to the brim. Stir and pile on the whipped cream, if you're into that sort of thing.