Bigger bra, bigger savings? Chinese restaurant blasted for offering discount based on bra size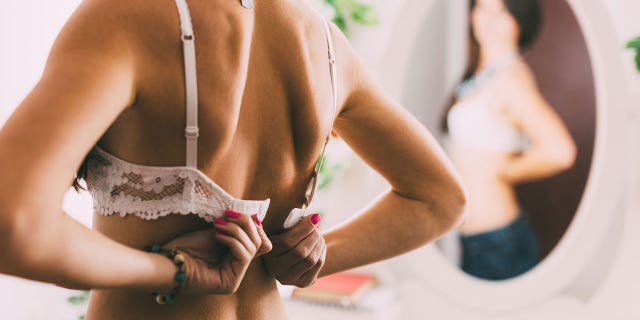 A seafood restaurant in China says business was bountiful thanks to a recent meal deal — but not everybody was super excited about the offer.
Trendy Shrimp, located in Hangzhou, Zhejiang, is being criticized for a recent promotion in which they offered female patrons a discount based on their bra sizes, reports the Qianjiang Evening Post. Specifically, a woman who wore an A cup bra was entitled to a five percent discount; a woman with a B was entitled to 15 percent; a C cup earned a 25 percent discount; and so on.
RESTAURANT'S 'PAY WHAT YOU WANT' PROMOTION RESULTS IN MAJOR LOSS
The restaurant also promoted the offer with a sign which illustrated the deal via a series of cartoon women, along with a caption reading "The whole city is looking for BREASTS," per a translation in BBC News.
"This content [is] vulgar advertising," said Ms. Zhu, a Hangzhou resident who spoke with the Evening Post. "In addition, I think it is discriminatory against women."
JAPANESE BAR OFFERING DISCOUNTS BASED ON HEEL HEIGHT
According to reports, Zhu and several others also called in complaints to the mayor's office, asking for the removal of the advertising materials. The push-back has apparently worked, too, as the posters were removed "in order to reduce the impact on passersby," said Lan Shenggang, the restaurant's general manager.
What's more, the Post writes that Shenggang discontinued the promotion sometime afterward, following a phone call from Trendy Shrimp's head office.
Shenggang, meanwhile, had already told the Post that despite the backlash, the promotion was working exactly as planned.
"Once the promotion started, customer numbers rose by about 20 percent," said Lan Shenggang, who further claimed that some of the girls were "proud" to receive the discount. "They had nothing to hide."
The BBC also reported that Shenggang told diners they could redeem their discounts with a female server in order to "avoid embarrassment."
FOLLOW US ON FACEBOOK FOR MORE FOX LIFESTYLE NEWS
However, now that the deal has ended, Mr. Lu, the CEO of the restaurant group that owns Trendy Shrimp, is already teasing a new promotion.
"We … apologize for all the guests who entered the store, and the discount was canceled, but we [are] planning a new program that would be launched," Lu told the Qianjiang Evening Post.