After Florence, North Carolina Jewish community is asking for help getting Kosher food for Yom Kippur
In the wake of Hurricane Florence, a North Carolina synagogue said it plans to celebrate the Jewish holy day of Yom Kippur as planned — but there might be one problem.
With Wilmington, one of North Carolina's largest cities, still mostly cut off by floodwaters from the hurricane, officials have begun distributing supplies and food to residents. But as the Chabad of Wilmington has already said it is prepared to open its doors to anyone who wants to pray and share in the upcoming holiday, it might not have enough kosher food for after the 24-hour fast ends Wednesday, The State newspaper reported.
MEGHAN MARKLE RELEASING CHARITY COOKBOOK AS FIRST ROYAL SOLO PROJECT
Yom Kippur, meaning "Day of Atonement," begins Tuesday evening and lasts until Wednesday.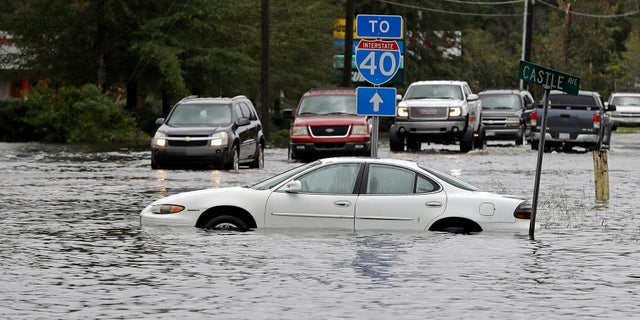 Other Jewish organizations are racing to figure out how to get kosher food to the beleaguered communities in time — including exploring the possibility of enlisting the help of military bases or the American Red Cross, according to Chabad.org.
"We have a truckload of kosher food for the community, but no way to get it to them," Rabbi Bentzion Groner, from Charlotte, told Chabad.org.
HURRICANE FLORENCE COULD LEAVE DEADLY DISEASES, ILLNESSES IN ITS WAKE
"It will be days or weeks before trucks can resupply the city. And the shortages will continue to get worse," Chana Lieblich, a co-director of the Chabad of Wilmington, told the news outlet.
There are about 3,000 Jewish residents in Wilmington, according to Chabad.org.
Despite the shortage, the Chabad of Wilmington struck a more positive tone in a Facebook post.
"Yom Kippur is a time for reflection and renewal. A time to reconnect to G-d and start the year with a clean slate," it said. "For those of us who have gone through the storm, who have to rebuild, clean up and move forward, we can certainly relate to the underlying theme that Yom Kippur represents."
WAFFLE HOUSE CEO IN WILMINGTON, NORTH CAROLINA HELPING KEEP RESTAURANTS OPEN AFTER HURRICANE FLORENCE
So far, crews have conducted about 700 rescues in New Hanover County, where Wilmington is located. More than 60 percent of homes and businesses were without power, authorities said.
"At this time, things are moving as well as can be in the city," Mayor Bill Saffo said, adding that he's spoken with the governor about getting more fuel into the city.
At least 32 people have died in the U.S. as a result of Hurricane Florence, once a powerful Category 4 storm that has since been reduced to a rainy, windy mass of low pressure. That figure includes 25 fatalities in just North Carolina.
The Associated Press contributed to this report.