Connecting through faith with a mission to heal country's racial divide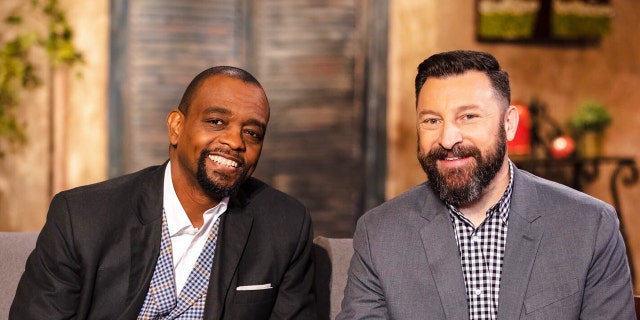 They met at the Lincoln Memorial years ago, on Martin Luther King, Jr. Day, at the very spot the civil rights icon gave his famous "I Have a Dream" speech. They were both faith leaders with a deep spiritual connection.
But then they learned something about their past that would shock them.
Matthew Lockett's ancestors were farmers in Virginia. Will Ford is a descendent of slaves. Through careful digging, and thanks to a 200-year-old kettle, they learned Lockett's family once owned Ford's family as slaves. But instead of ripping them apart, the revelation brought them together and, through their powerful story, they are trying to heal the country's racial divide.
'HEAVEN COME' CHRISTIAN CONFERENCE SELLS OUT MICROSOFT THEATER IN LOS ANGELES
"I think God connected us because He's very, very serious about healing the racial divide, He's very serious about bringing revival, and He's also very serious about the culture of life and that includes everybody," Ford, a 53-year-old Texas native, told Fox News.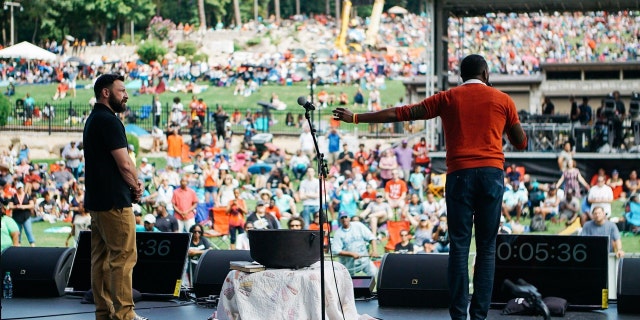 The two eventually wrote a book together, "The Dream King" and became so close they co-founded the Dream Stream Company, which enables them to share their remarkable story around the world.
Ford founded the ministry 818 The Sign with his wife, Dehavilland, and is also a professor at Christ for the Nations in Dallas. Lockett, 48, is an Indiana native who is also the executive director of Justice House of Prayer DC. They met in 2005, both led by dreams they had to an event organized by Lou Engle, founder of The Call, a prayer movement.
Their speeches captivate audiences – and they are on a mission to ease the country's racial tensions through their story. They believe prayer will change the nation forever. Ford believes their story is meant "to catalyze people to contend for spiritual awakening"
COFFEE WITH A CAUSE: CHRISTIAN COMPANY WANTS TO DONATE 100 CARS TO SINGLE MOMS IN NEED
They believe God revealed their past, a son of formers slaves owners and a son of former slaves, sitting together at the table of brotherhood and forgiveness, just as MLK spoke of many years ago, for this specific time in history.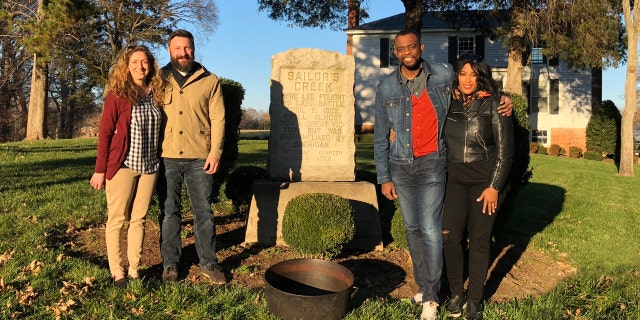 And their story goes back more than 200 years when Ford's ancestors prayed under a black kettle pot that was passed down in his family. His ancestors, believing they wouldn't see freedom in their generation, prayed for a future generation's freedom and healing.
FLORIDA TEENS STRANDED IN OCEAN SAVED BY BOAT NAMED 'AMEN' AFTER DESPERATE PRAYER FOR HELP
That kettle was what helped form their friendship. Ford spoke about the kettle at a church the day of the event in Washington D.C. Lockett asked him about it, they struck up a conversation and they eventually became friends. Once they began looking into the history of the kettle was when they learned about their startling historical connection.
Once they became friends, they began speaking about their story all across the world.
MILLENNIAL STARTUP CHANGING THE WAY PEOPLE READ THE BIBLE: 'OUR HOPE IS TO DEEPEN YOUR EXPERIENCE WITH GOD'
Their movement could also be provocative. They compare abortion to slavery and believe the abortion issue, just like slavery, is all about personhood and the value of human life. It was slaves then – today, unborn children.
AN UNLIKELY JOURNEY FROM AGNOSTIC GAY MAN IN PRISON TO EVANGELICAL BIBLE PROFESSOR
Ford said he is accused of conflation when he compares abortion with slavery, but he adds it's "not conflation when you talk about human dignity."
Ford points to the "loss of dignity" in both the Dred Scot case and the Roe v Wade, in both cases subjects were not considered a person in the courtroom.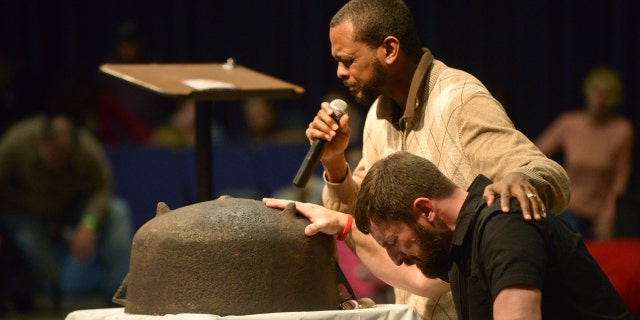 "I believe we're on the verge of revival in America and the transformation of culture on that has the potential to turn the tide on racism," he said. "the life issue, social injustice, systemic injustice, I believe it's on this generation to get ahold of a real hope that things can change…"
CLICK HERE TO GET THE FOX NEWS APP
He added: "The dream is for spiritual awakening that heals all the places we're very divided in our nation right now. It's happened before in our country, why can't it happen again?…We're on the precipice of a major shift in the country if we continue to pray."
The two both said together: "Prayer is the key."