Millennial startup changing the way people read the Bible: 'Our hope is to deepen your experience with God'
Two millennials who share almost identical names are on a mission to get the Word of God in the hands of the Instagram generation.
Brian Chung, 30, and Bryan Chung, 24, sat down with "Mornings with Maria" Wednesday on the Fox Business Network to discuss how they are redesigning books of the Bible with "beautiful imagery and thoughtful design" through their start-up, Alabaster Co., which is projected to make $1 million in sales this year.
MILLENNIALS CREATE A BIBLE FOR THE INSTAGRAM GENERATION: 'WE...ARE USING IMAGERY IN A MUCH MORE MODERN WAY'
"Our hope is to deepen your experience with God," Brian told the panel. "We were thoughtful about typography. We were thoughtful about using negative space. As Christians, we know the story of Jesus is beautiful and we wanted to create a beautiful reading experience."
According to a recent study from the Barna Group, almost half of millennials say they use the Bible.
For the co-founder who grew up in a Buddhist household, Brian said the first time he picked up a Bible and started reading, he was "intimidated" because it was "unlike any other book" he'd read. Traditional Bibles don't start with Genesis 1:1 on the first page. You have to leaf through pages of family lineage, maps, and other content before getting to the text, which, Brian notes, is small and condensed.
'THE CHOSEN' $10M CROWDFUNDED SHOW OUT NOW: 'EXPERIENCE JESUS IN A WAY THAT'S NEVER BEEN DONE BEFORE'
"We live in a visual culture," Bryan said. "Everyone has a smartphone with a camera. We consume lots and lots of media so, for us, we thought, 'How can we bring that into a faith-based culture?'"
The duo launched "The Bible Beautiful" project with a Kickstarter in 2016 to redesign the four gospels - Matthew, Mark, Luke, and John - which garnered over $60,000. Then, they used Indiegogo and their own website to sell over 5,000 books in the first two years, including the book of Romans, Proverbs, and Psalms. Earlier this year, they both quit their part-time jobs and went full-time with Alabaster, but they still have their office in Brian's Los Angeles apartment and do photoshoots in his garage.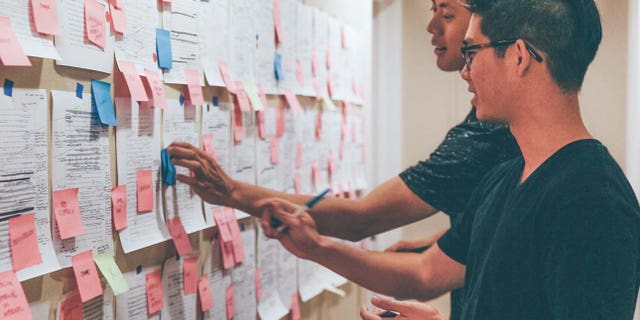 The next book of the Bible they plan to release is the much-anticipated book of Genesis, and just like the books before it, the Alabaster team has a different process for each book.
BOY WHO INSPIRED FAITH SURVIVAL STORY 'BREAKTHROUGH' SAYS 'GOD STILL DOES THE IMPOSSIBLE'
Each book starts with prayer. They study the book together using things like the 'Dictionary of Biblical Imagery," The Bible Project, and a network of pastors from their time in ministry.
"We understand that there are things that the modern day English reader might miss when studying scripture, such as the grammatical structure that the author might be using to highlight deeper themes," Brian said. "We try to communicate those deeper themes into our design and photography."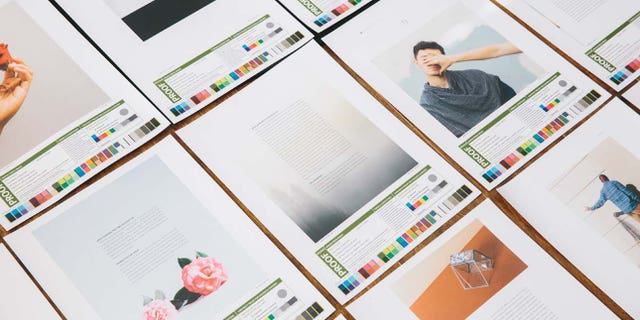 There's more than meets the eye.
"For example, in the Book of Mark, there's a passage of the woman with the Alabaster Jar, who breaks the jar and pours the perfume over Jesus. A couple lines afterward, we see this same repetition of Jesus breaking bread, and pouring wine. And then later Jesus breaking his body, and pouring out his blood over humanity," Brian said. "Most people might miss this repetition like I did, so we try to highlight this through our design and photography."
YOUNG BOY CREDITS THIS CHRISTIAN CHILDREN'S SHOW WITH SAVING HIM FROM SUICIDE
While some say print is dead, the Christian startup, whose marketing is primarily on Instagram, believes the coffee-table style books -- which they say are meant to look more like art books than traditional Bibles -- are not going out of style.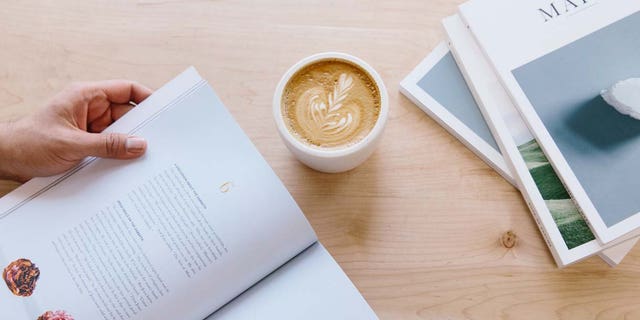 "It's been really cool to see, people have been using our Bibles and placing it on the coffee table living room space as a conversation starter," Brian said. " Traditionally we've seen Bibles placed on the bookshelf and so it's not much talked about, so through the stories and the emails we've gotten, people have been talking about their faith, sharing it with people who aren't religious and religious."
The Christian company that seeks to combine creativity, beauty, and faith, their next project, which will be released in May, is not a book of the Bible but rather a book closer to a devotional called "All That Is Made" that aims to deepen people's experience with God.
CLICK HERE TO GET THE FOX NEWS APP
"For millennials, we live in a very visual generation," Bryan concluded, "and we're really interested in seeing how art kind of changes the way you experience an ancient text like this."