Church goes to the dogs: Florida congregation holds pooch-friendly service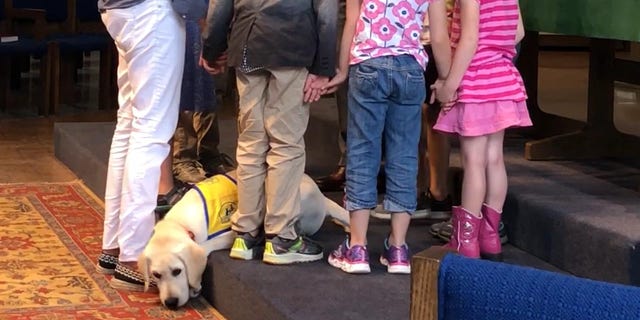 A Florida congregation has let the dogs out -- in church.
Saint Benedicts's Episcopal Church in Plantation, Florida, welcomes man's best friend among their flock every Saturday evening for a special "dog-friendly" service.
"When we say we welcome all, we really mean it," Father Albert Cutie, rector of the church, wrote on Facebook. He questions if one can "really pray and leave a loved one behind." Cutie says many of the church's members live alone and a pet can often become their closest family member.
THE JOYS AND PAINS OF RAISING A CANINE COMPANION
The dogs who attend the church are typically pretty quiet -- until after Holy Communion, when they're given time to greet one another. Last year for Palm Sunday, the church had a petting zoo, and once a year, they have a special animal blessing ceremony.
Jennifer Williams, the executive producer for "The Daily Briefing with Dana Perino," who is training a service dog, Spike, said she thinks it's a great idea but adds that not all dogs are behaved well enough for church - or many places in public for that matter.
"I love the idea of dogs going to church, but all responsible dog owners should think through going to church or any public setting," she said. "Even though it's allowed, doesn't mean you should just do it. You just have to know your own dog."
For Williams, going to church with Spike, was one of her favorite outings because of the reception he received when Pastor Richard Young and the children at Orchard Park Presbyterian Church outside of Buffalo, New York prayed for Spike and his service. Her step-father, Allyn Foster, is an assistant pastor at the church.
CLICK HERE TO GET THE FOX NEWS APP
"I was just in tears because it was the sweetest moment to have all these little angels hold hands and just pray for Spike," Williams said.
And while the church loved having a service dog among their flock that day, Spike, who just turned 1, loved the attention, too.
"He makes everything better," she said.
VIRGINIA CHURCH RAISES $100G TO PAY OFF COLLEGE DEBT FOR 34 STUDENTS
Spike was named after Williams' late brother, Kyle, who was a paraplegic, as a way to pay tribute to him and raise awareness for people with disabilities.
The Associated Press contributed to this report.