Virginia church raises $100G to pay off college debt for 34 students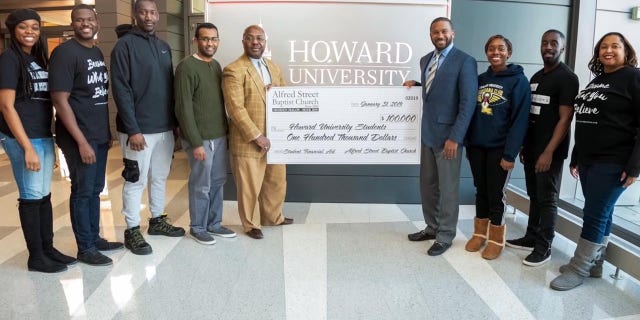 A Washington D.C.-area church raised over $100,000 during a month-long fast and gave it all to local college students struggling with debt.
In total, the Alexandria, Virginia church was able to help 34 students pay in full outstanding debt before their May graduation at Howard University.
The church made a video where they told the students who were chosen that their debt was forgiven. That video was shown to the congregation on Sunday.
TEXAS COUPLE: GOD 'PURPOSEFULLY CONNECTED' US TO KIDS FOUND CHAINED IN HORRIFIC ABUSE CASE
"The entire congregation was just moved to tears," Wesley told Good Morning America. "In this time ... we feel it is important, as a body of faith, that we exemplify what it means to take care of strangers."
Wesley noted around three-fourths of his congregation attended historically black colleges and universities and wanted to give back.
CLICK HERE TO GET THE FOX NEWS APP
"We heard the Lord say we ought to do something good for some people who are ready to graduate so we came over here to Howard, pulled out the names of seniors who had some holds to their account just because the balances were leftover after financial aid and all that and just want to let you know that your account has been paid in full, man." Alfred Street Baptist Church Rev. Dr. Howard-John Wesley told a student. "You're clear to graduate, on behalf of Alfred Street Baptist Church. Go do amazing things in the world and know that we took care of the account for you."
The student was beyond excited.
"I just wish I could just come and just hug everyone. It's a lot to stress about," the student said. "It's a lot to worry about, so the fact that this weight off my shoulder, I'm forever grateful."
A first-generation college student, whose father passed away as a kid and his mom passed away his freshman year, said the church is truly a blessing at a time when his family is already dealing with other kids getting ready to go into higher education.
"It's just one of those things," another student added. "It's like a twist full of emotions that you just don't believe."
'WHEN GOD BECOMES REAL': BETHEL PASTOR OPENS UP AFTER BEING HOSPITALIZED FOR NERVOUS BREAKDOWN
One of the students said her mom is going to scream when she hears the news.
"We were in the car, like homeless," she said. "It was never one night, I never saw her stop praying, like she kept praying and praying and praying, and like her courage, even though we were at the low of the low, she still believed in God and she still believed that there's going to be some miracle that's going to happen that we're going to get out of this situation."
Wayne A. I. Frederick, the president of Howard University, believes the church's generosity will have a ripple effect.
"I tell the students all the time when they come to Howard that they're not here for a degree, they're here for an education. What is equally important are the experiences they have outside of the classroom and this is another experience," Frederick told GMA. "It will teach them about paying forward and teach them about the responsibility to the community around them."
TEXAS PASTOR DELIVERS SERMON HOLDING BULLET THAT HAD JUST NARROWLY MISSED HIM
But the church isn't stopping there. The congregation is participating in a Black History Month Challenge February 1-23, calling other churches to join them in supporting historically black colleges with financial relief for students.