Whoopi Goldberg calls for Mike Pence and 2020 candidates to condemn hate crimes, attacks on houses of worship
Whoopi Goldberg opened Tuesday's episode of "The View" with a call to action from all 2020 presidential candidates — and Vice President Mike Pence.
Goldberg, 63, condemned the "disturbing trend" of fires set to three historically African American churches in Louisiana.
"People think if you burn the church, you're gonna hurt the people, but people can celebrate their relationship with God outside. They don't need the building," Goldberg said. "So maybe if you have an issue, don't burn the church. Don't shoot the people. Have your conversation with the God that you're p—ed at."
FBI, STATE AUTHORITIES PROBE THREE SUSPICIOUS BLAZES AT AFRICAN AMERICAN CHURCHES IN LOUISIANA
"When people destroy churches, they sometimes don't realize there's little girls down in the basement. That's what happened 50 years ago," she continued, referencing the 16th Street Baptist Church bombing in Birmingham, Ala., in 1963.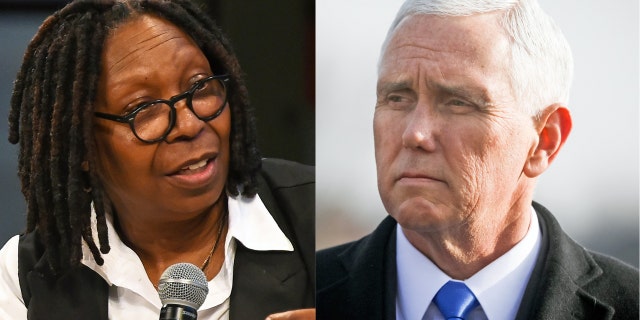 ROSIE O'DONNELL SAYS WHOOPI GOLDBERG WAS 'MEAN' DURING 'THE VIEW' TENURE
"Seeing this burning churches thing happen again, I grew up watching this on television. We've already done this. We don't need to go back to this. So I'm just saying, stop. There are other ways to express your anger. This is not it," she continued. "Shooting people is not it. Burning the church is not it. You're not going to stop the conversation with God."
MEGHAN MCCAIN SLAMS JOY BEHAR ON 'THE VIEW': 'PART OF YOUR JOB IS TO LISTEN TO ME'
"People's relationships with God are not going to go away because you burned the building or shot the people. People keep coming back because they know that it's the one place they can feel what they need to feel and they can talk to their maker. Stop doing it," Goldberg fumed. "Stop targeting people, stop targeting religions."
ROSIE O'DONNELL AND WHOOPI GOLDBERG TURNED 'THE VIEW' SET TO 'WORLD WAR III'
"That is not the American way," she said. "It was once. We know that, we see books, we know history. It is not now and hasn't been for a very long time. And this is on us. This is on American citizens who need to stand up and say 'Hey, we're not doing that.' "
WHOOPI GOLDBERG DEFENDS JOE BIDEN FROM LUCY FLORES ALLEGATIONS
"You know what I want? I want a one-issue candidate to come out and say 'Stop.' I want all these candidates, left, right, center — I want everybody to just say, 'Stop. We're not accepting it.' I want it to come from Washington, I want it to come from state houses, I want it to come from all over."
CLICK HERE TO GET THE FOX NEWS APP
Just before cutting to commercial, Goldberg addressed the vice president, who as of press time hasn't spoken out about the fires: "Where is Mike Pence?"