'The Voice' recap: Contestants enter battle rounds, Blake Shelton and Cher make for most compelling duo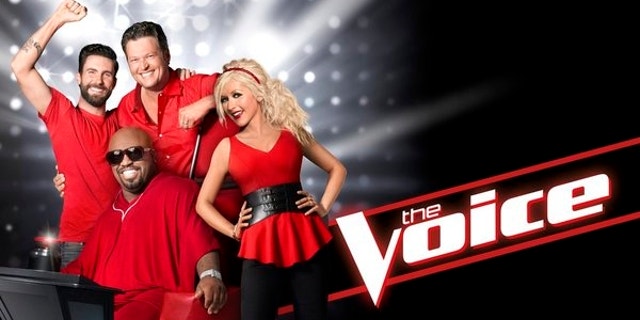 Battle rounds began Monday night on season 5 of "The Voice." Coaches by their side, contestants brandished their microphones and prepared for battle. After carefully assembling their teams, the star-studded panel of coaches paired off the singers to battle it out for a spot in the upcoming knockout rounds.
Each coach brought along a fellow artist to help them mentor their team members; Christina Aguilera enlisted British singer Ed Sheeran, CeeLo Green invited triple threat recording artist Miguel and Adam Levine brought One Republic frontman Ryan Tedder. But perhaps the most anticipated guest coach was Blake Sheltons' invitee, Cher.
Awarded two steals for the season, some nixed artists were stolen but many dreams were still crushed. Did your favorite make it past the premiere of the battle rounds?
[Warning: Spoilers ahead!]
Battle #1
Team Adam: Grey vs. Nic Hawk
Song: "Domino" by Jesse Jay
First to take the stage were Team Adam members Grey and Nic Hawk. The two most stylistically different people on Team Adam both gave strong initial performances during rehearsal.
Wedding band singer Grey was thought to have the advantage, as she was already familiar with the Jesse Jay tune "Domino" that Levine chose. However, Nic stepped up during the live performance and proved his eclectic tone matched Grey's experience.
All four coaches agreed both Nic and Grey gave energetic performances, but it was Grey that won over their coach in the end. Before Nic shed too many tears, Shelton hit his button for the first steal of the season!
"Why is Adam such an idiot?" Shelton quipped as he made his move to steal Nic. "Will you teach me how to dance?" he asked his newest team member.
Winner: Grey
Steal? Team Blake scores Nic Hawk
Battle #2
Team Christina: Amber Nicole vs. Timyra-Joi
Song: "Listen" by Beyoncé
The two teen power vocalists brought down the house with their version of Beyoncé's "Listen."
Their performance brought the Grammy Award-winning singer to tears as she quickly regretted her decision to pair up the R&B divas. Eventually, Amber was declared the winner although Timyra-Joi gave an equally passionate performance.
Coach Christina was "shocked and disappointed that no one snatched her up." Fellow coach Blake Shelton agreed and quickly realized his mistake in not using his last steal for Timyra-Joi. "If I could go back, I definitely would have stolen her."
Winner: Amber Nicole
Steal? Shockingly no.
Battle #3
Team Blake: Justin Chain vs. Shelbie Z.
Song: "Don't You Wanna Stay" by Jason Aldean and Kelly Clarkson
It was a battle of the outlaw country singers when Shelton paired up Justin and Shelbie to sing the Aldean-Clarkson duet.
During rehearsal, Shelbie struggled to put power behind the higher notes in the song and the pair stumbled over the harmonies. "They've got their work cut out for them," Cher correctly noted.
Shelton also caught the legendary singer with her foot in her mouth in rehearsals. While the two were chatting, Cher said she "loves Adam" but when Blake asked her to name one of her favorite Maroon 5 songs she embarrassingly answered, "Oh, they're all so good."
When it came time for the big performance, even Adam Levine was howling "yeehaw!" The Maroon 5 singer said "I couldn't focus on the separation because you guys were such a great unit." Aguilera agreed and suggested the two become a more permanent duo.
In the end, Shelton chose beauty pageant queen Shelbie and Justin failed to get picked up for another team despite Adam's desperate attempt to pick up a country singer this season.
Winner: Shelbie Z.
Steal? Naw
Battle #4
Team CeeLo: Anthony Paul vs. Caroline Pennell
Song: "As Long You Love Me" ft. Big Sean by Justin Bieber
Show choir singer Anthony Paul was excited by his coach's song choice but that was before he heard his shy competitor impress CeeLo and guest coach Miguel during rehearsal.
Although the Justin Bieber song was in the 18-year-old's genre of choice, the coaches felt Caroline's cover was more unique. However, that didn't stop Anthony from scoring a steal from Christina after Caroline secured her spot on Team Adam.
"That was my favorite battle of the whole day," Christina announced. A conflicted CeeLo Green admitted he was "wrong to pair them together."
Winner: Caroline Pennell
Steal? Yes!
Battle #5
Team Adam: Donna Allen vs. Tessanne Chin
Song: "Next to Me" by Emeli Sande
Both of these singers had a lot to prove entering the battle rounds; at 54-years-old Donna is the oldest in the competition and Jamaica-native Tessanne is trying to fulfill the American Dream.
When Tessanne first learned she would be battling Donna, she started saying her goodbyes. Convinced she would not be able to beat Donna's shear vocal power, she instead focused on producing dynamic vocals of her own.
Their rendition of Emeli Sande's "Next to Me" brought the audience to their feet and all four judges couldn't stop comparing Donna to Tina Turner. "Are you Tina Turner?" Aguilera asked.
"I think either of you could win," Levine said before making his final decision and choosing Tessanne. In perhaps the most shocking event of the night, the three remaining coaches failed to steal fan-favorite Donna.
Winner: Tessanne Chin
Steal? No one 'Turner-ed' their chair for Donna again
Battle #6
Team Christina: Briana Cuoco vs. Jacquie Lee
Song: "The House of the Rising Sun" recorded by The Animals
Sister and personal assistant to Big Bang Theory actress Kaley Cuoco, pop singer Briana was paired up against 16-year-old Jacquie. Aguilera chose the older, more mature song The House of the Rising Sun for the final battle of the night.
Edgy performer Briana seemed like a shoe-in for the spot on Team Christina, especially after receiving much praise from her coach and guest coach Ed Sheeran but it was R&B singer Jacquie who made the final cut.
CeeLo and Shelton wasted no time in stealing Briana who was faced with choosing which artist she wanted as a mentor after being cut from her original team. The crowd, along with the encouragement of Adam who warned Briana not to "make direct eye contact with his [Blake's] dimples," chanted for the singer to choose CeeLo. She surprised everyone and went with the country crooner because "he's won three times in a row."
Winner: Jacquie Lee
Steal? Yes, with a big bang!
Blake Shelton is out of steals as battle rounds continue tomorrow night.