The Rock says he's been having secret political meetings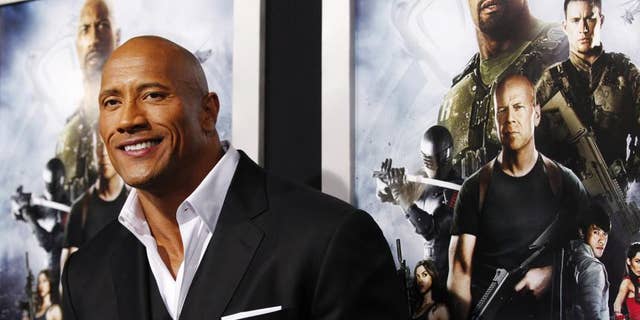 Dwayne "The Rock" Johnson isn't necessarily in a hurry to run for political office, but he is taking measures to make sure he'd do the best possible job if he decides to run someday.
The "Rampage" star told Rolling Stone he's been taking "under-the-radar" meetings with political experts after announcing last year that he was pondering a presidential bid.
"Republicans, Democrats, independents, mayors, strategists, you name it. Just soaking in and listening," Johnson, 45, said. "… I feel like the best thing I can do now is — give me years. Let me go to work and learn."
The 2016 Sexiest Man Alive added, "I mean, look — people are very excited, and it's so flattering that they're excited. I think it's also a function of being very unsatisfied with our current president. But this is a skill set that requires years and years of experience. On a local level, on a state level and then on a national level. I have the utmost respect for our country and that position, and I'm not [delusional] in any way to think, 'Oh, absolutely, if Trump can do it, I can do it, and I'll see you in 20-whatever, get ready.' Not at all."
"I will say this … There's a well-known political figure who said, 'All right, listen. If and when you want to run for president, when you text me this word, I'll come running. Don't text any other word – not 'hi,' not 'how you doing,' not 'what's up.' Just this word,'" he said.
The word is actually the phrase "freedom patriot," but while he conceded to reveal that morsel, Johnson kept it zipped on who the figure was.
Despite his potential political aspirations, Johnson admitted that he didn't vote in the 2016 presidential election (though he voted for Barack Obama in 2008 and 2012).
"At the time, I just felt like it was either vote for the [candidate] I thought would make a better president than the other, even though I would rather have someone else, or not vote at all," he confessed. "I wrestled back and forth with it. We were on the set of 'Jumanji' in Hawaii, and it really was like calling on the gods: 'Give me the answer.' Ultimately, it was [to not vote]."
Despite his ambivalence in November 2016, the WWE legend made it clear is no fan of President Donald Trump, especially after the infamous "Access Hollywood" tape leaked. Johnson met Trump one time at a wrestling event where they shook hands, but he says that was the entire extent of their interaction.
"I think in a lot of people's minds, what Trump has proved is that anybody can run for president," he said. "And in a lot of people's minds, what he's also proved is that not everybody should run for president."
In the Rolling Stone interview, Johnson also voiced support for the March for Our Lives, which hit home because his daughter Simone goes to school a half an hour from Parkland, Florida. It was a rare move, as Johnson rarely publicly weighs in on political debates.
"She was absolutely terrified. A lot of her friends' friends died. It's heartbreaking," Johnson said. "They're still going through it … You gotta do something, right? I don't think giving teachers guns is the answer, because then we're just bringing more guns into school. I don't know, man. I don't have the answers. But we've gotta keep our kids safe."
"[Parkland students leading the gun-control debate is] incredibly moving and powerful and emotional. But like with anything, we've gotta have people who will meet them in the middle," he said.
The 6-foot-5 star's vocal support for Parkland is just the beginning, he promised.
"The next elections, in 2020, I think I'll be a little bit more vocal in who I support."
This story originally appeared in the New York Post.