Solange reveals autonomic disorder diagnosis, cancels appearance at New Year's Eve at AfroPunk Fest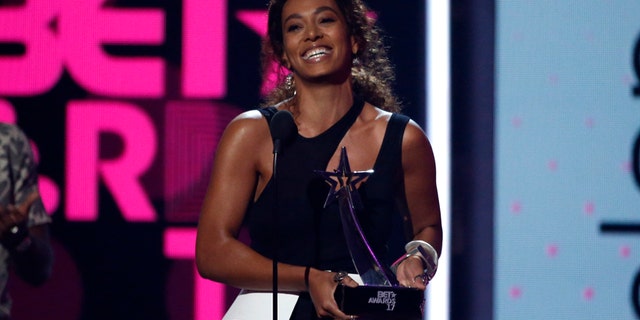 Solange just broke the bad news to fans that she will no longer be able to perform at the AfroPunk musical festival on New Year's Eve due to a recent autonomic disorder diagnosis.
On Wednesday, the 31 year-old singer shared a post on Instagram detailing her diagnosis along with the announcement that she would be canceling her upcoming show.

"The past five months I have been quietly treating, and working through an Autonomic Disorder. It's been a journey that hasn't been easy on me," she said in the photo caption of an image of herself. "Sometimes I feel cool, and other times not so cool at all. It's a complicated [diagnosis], and I'm still learning so much myself, but right now, my doctors are not clearing me for such an extended lengthy flight, and doing a rigorous show right after."
Beyoncé's younger sister apologized to fans and expressed how hard it has been for her to share the news but also explained that her health was the reason why she had remained quiet for several months.
In addition to thanking her fans, the singer also revealed that other festivals were aware of her disorder and thanked those festival organizers who knew about the state of her health and "kept it confidential."
According to physicians at NYU Langone's Dysautonomia Center, there are several different types of autonomic disorders, but the overall impact of the disorder is the body having difficulty regulating certain internal organ fuctions, such as heart rate, blood pressure, digestion and body temperature. Symtons of the disorder can result in fainting, lightheadedness and fluctuating blood pressure.
Solange has yet to detail what symptoms she is experiencing or what type of disorder she has, but despite struggling with the disorder, she told fans that she was determined to come back strong in the New Year.
"As a part of the self-care that I've tried to encourage this past year, it needs to start with myself, and I'm looking forward to doing a better job of this 2018," she wrote. "This past year has been one of the most fulfilling of my life… Performing this record and experiencing the energy exchange with you guys has been astounding, and I'm so excited about continuing to do the work I feel so absolutely humbled and appreciative to be doing next year. It gives me life."