Sofía Vergara Dishes On Much-Anticipated Wedding, Gets Manly Surprise On 'Ellen'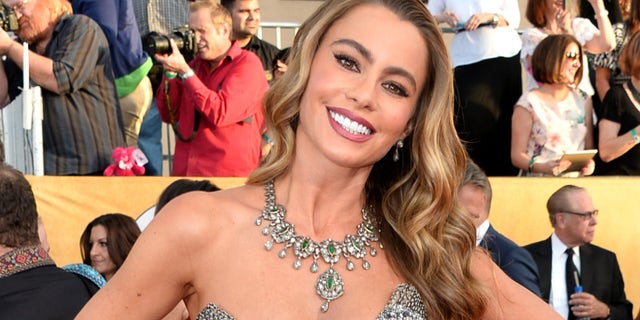 Sofía Vergara revealed during her stop at "The Ellen DeGeneres Show" on Tuesday that she actually has not planned anything for her upcoming nuptials.
During her appearance, the "Modern Family" star, who has been engaged to fiancé Nick Loeb since 2012, said she has had a hard time shooting down wedding rumors since she has not put much effort into actual wedding planning.
DeGeneres did not waste time asking Vergara which of the rumors were true, to which the Latina actress replied, "It's been awful because since the news came out, all my family is so excited. They are already planning outfits! It's like 'What are we going to do?' 'How are you going to get us there?' And, I'm like it's horrible and disappointing to have to tell them that that [the plans] is not true."
The 41-year-old actress confessed that she and Loeb have not actually planned anything yet.
"It's either I do something really big, or I do something really small with Nick and I and my son, and then my mom, and them my cousins, and then it's impossible," Vergara told DeGeneres.
Following the wedding talk, DeGeneres seemed to bring a preview to a bachelorette party of sorts when she surprised a very happy Vergara with a handsome barista delivering one of the Colombian's favorite types of coffee.
The barista proceeded to strip off his shirt and dance for the bride-to-be as she placed dollars bills all over.
Follow us on twitter.com/foxnewslatino
Like us at facebook.com/foxnewslatino