Ricky Gervais Draws More Gasps Than Grins at Golden Globes Awards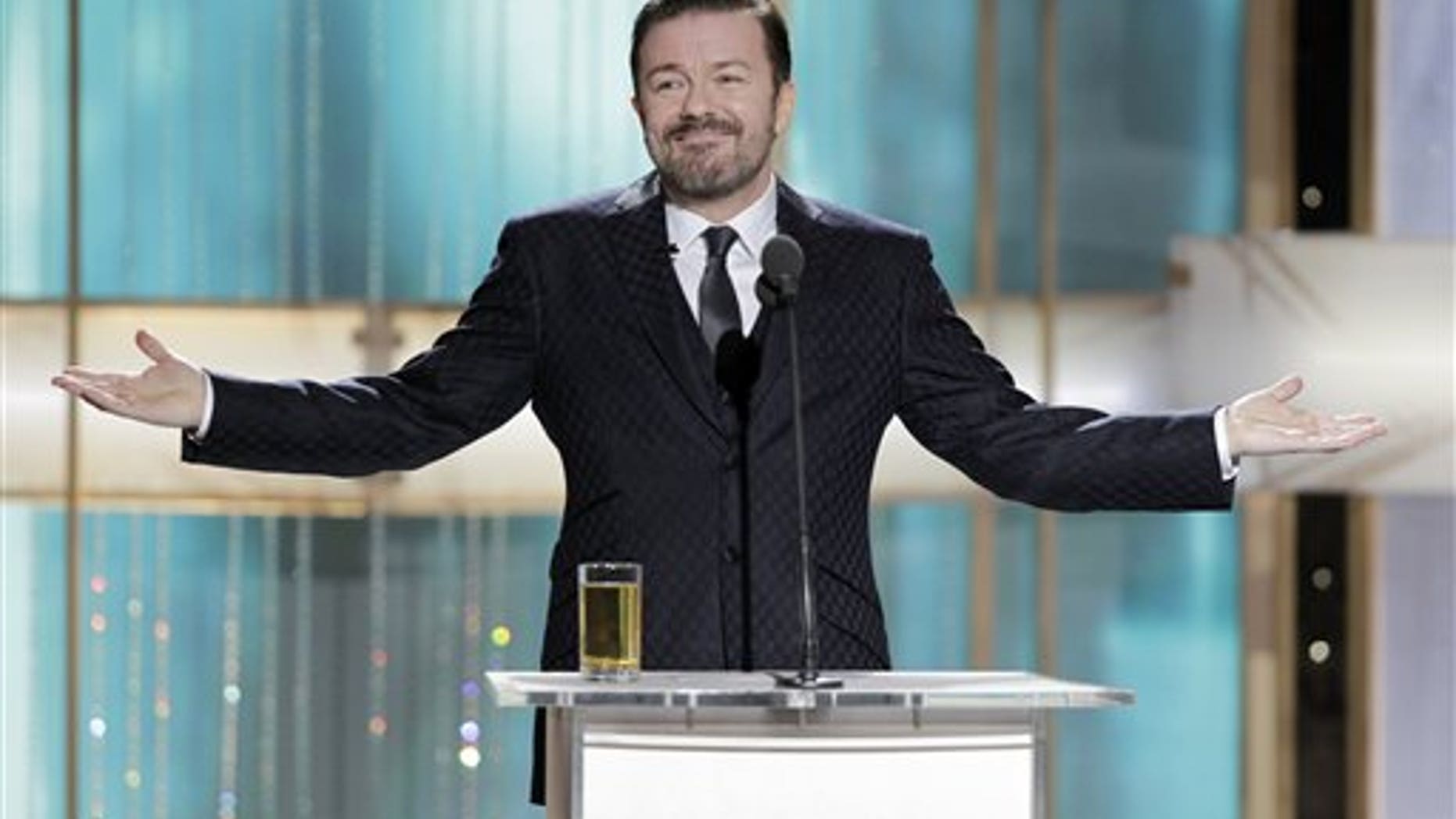 Following the critical acclaim of last year's Golden Globes, the Hollywood Foreign Press invited comedian Ricky Gervais back to host the ceremony on Sunday evening. But he garnered more gasps than he did grins as Gervais attacked everyone from Charlie Sheen and Angelina Jolie to Robert Downey Jr. and the "Sex and the City" stars.
"It's going to be a night of heavy drinking," Gervais said in his opening monologue. "Or as Charlie Sheen calls it, breakfast… He picked up a porn star, paid her to have dinner with him, introduced her to his ex wife – as you do – went to a hotel, got drunk, got naked, trashed the place while she was locked in a cupboard ... and that was a Monday! What did he do New Year's Eve?"
Sheen was an easy target as he was neither nominated nor in the audience, so it wasn't until "The Office" creator mocked two of the night's biggest attendees, Angelina Jolie and Johnny Depp (who both controversially scored nods for the critically panned film "The Tourist") that jaws really started dropping.
"I haven't even seen 'The Tourist,'" Gervais said. "Who has? There's this ridiculous rumor going around that the only reason 'The Tourist' was nominated was so that the Hollywood Foreign Press could hang out with Johnny Deppand Angelina Jolie. That's rubbish. They also accepted bribes."
Gervais was referencing a lawsuit filed against the HFPA, who run the Globes, by their former PR firm on Friday which alleges the association was involved in payola and unethical dealings. And although Depp managed a half-smile for the camera amid Gervais's insults, he seemed visibly uncomfortable.
VOTE: Did Ricky Gervais go too far?
Perhaps the most wince-worthy moment came when Gervais pulled out a gay joke while commenting on the film "I Love You, Phillip Morris" starring Jim Carrey and Ewan McGregor, which was not nominated.
"Two heterosexual actors pretending to be gay – which is the exact opposite of some famous Scientologists," he said to the flabbergasted audience. "Probably! My lawyers helped me with the wording of that joke."
Yikes.
PHOTOS: Golden Globes Red Carpet Bombs and Bombshells.
Robert Downey, Jr. was the next to fall under Gervais's wrath as the host introduced him as someone better known for his stays "at the Betty Ford Clinic and the L.A. County Jail" than for his prominent movie roles. The "Iron Man" star and recovering addict wasn't exactly appreciative of the scathing reminder.
"Aside from the fact that it's been hugely mean-spirited with mildly sinister undertones, I'd say the show's going pretty good so far, wouldn't you?" a miffed Downey then asked the audience.
LIST: All of the Golden Globes winners.
Another awkward hush soon fell over the auditorium as the creator of "The Office" continued on his verbal rampage, this time taking a generalized swipe at the USA by referring to the Best Foreign-Language Film category as "a category that no one in America cares about." Gervais also took digs at the "Sex & the City 2" stars by stating that he was sure the team that airbrushed the poster would win the award for special effects, chastised Steve Carell for being "unappreciative" and leaving "The Office," and claimed Sandra Bullock told him backstage that she thought that "poor people were gross and smelled bad."
Bullock didn't laugh.
In his final wrap-up, Gervais thanked the audience, the HFPA, the viewers at home, and "God for making me an atheist."
Ba dum bum.
One star not afraid to admit she wasn't amused was fellow Brit, Jane Seymour.
"What I saw didn't seem terribly funny. I don't think he'll be invited back to do it next year, not in a hurry," the former "Bond" girl told FOX411's Pop Tarts at the Relativity Media and Weinstein Post Golden Globes Party presented by Marie Claire. "I just think it's about how it's done. The way it came across and the way it was being received, I think there was a general feeling in the room that 'this isn't appropriate.'"
GOSSIP BLOG: Our Golden Globes polls and more.
However some other celebrities enjoyed, or at least said they enjoyed, Gervais' performance.
"I like Ricky, I thought he was funny," Ryan Seacrest said. "I like Ricky."
And although Gervais introduced Demi Moore's ex-husband Bruce Willis as "Ashton Kutcher's dad" – Willis was apparently in no way offended.
"He was fantastic, he killed it, he did great," Willis enthused.
POP TARTS: Michael Douglas Just Happy to Be There After Cancer Scare.
Director Quentin Tarantino also chimed in that he thought Gervais was "pretty funny," nominee Ryan Gosling said that "he could do no wrong in (his) eyes," Helena Bonham Carter believes "he is so dangerous, so it is funny," and Sophia Vergara said his performance as "very entertaining."
In fact, fellow British star Christian Bale didn't feel Gervais pushed the envelope enough with his trash talking and bold banter.
"Thank God for comedians, they have the most important job," he said backstage after winning the Globe for Best Supporting Actor for "The Fighter." "I hope he keeps going further!"
On that note, Olivia Wilde will be disappointed if Gervais doesn't return as Globes host again in 2012.
"I thought he was brilliant," she told us. "I hope he does it every year."
That may be a long shot. Another of his victims during the telecast was the HFPA President Phillip Berk himself ("I had to help the HFPA president off the toilet and pop his teeth back in!") and it seemed from that midpoint onwards that Gervais mysteriously disappeared from the stage and made very few appearances. When he did, he appeared much more restrained and seemed to stick to the cue cards.
"I've covered a lot of awards shows in the past 15 years and I don't think a host has ever gone that far in treading the boundaries of good taste," veteran Hollywood Entertainment Reporter Shep Morgan said. "This is what you would expect on cable, but it was written where you couldn't bleep it out. You have to admire him for having the guts to stand up there and lay it all out, even if it did make me cringe."
Show business reporter Gayl Murphy believes the HFPA got what it deserved when it re-hired Mr. Gervais to run the evening.
"The HFPA hired him because he was a big hit hosting the show last year – drinking beer, jabbing at the stars and giggling his way through it. Don't they read the trades? Just last week he said, 'I didn't insult enough people at last year's show and this year I will only pick on the weak and the feeble, so I will never be invited back again,'" Murphy said. "Ricky Gervais says what everyone else is thinking, what you see is what you get. Who else is going to call Bruce Willis Ashton Kutcher's dad to his face?"
Deidre Behar contributed to this report.