On-camera catastrophe culminating in excruciating, inflatable Mr. Wacky interview goes viral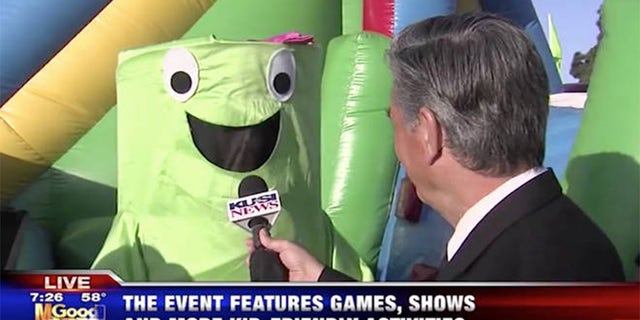 NEWYou can now listen to Fox News articles!
Reporter Dave Scott had a slow news day last month that's now coming back to haunt him.
Local San Diego news station KUSI sent the meteorologist and feature reporter to cover the local Inflatable Run festival on May 8. However, Scott managed to steal the show with what would be a painfully awkward interview captured on camera that went viral on Tuesday.
It started innocently enough, with Scott casually asking his anchor Jason Austell whether inflation is "a good thing, or not a good thing," trying to set up a joke about the family-friendly event taking place in an inflatable park.
After a lengthy silence, a confused Austell asked Scott to repeat the question.
"Is inflation in our world a good thing or not a good thing, generally?" repeated a flustered Scott.
"It depends upon what the topic is," responded Austell. "What are we talking about?"
'Now does that mean that everybody here becomes an inflatable today?'
Scott, realizing he was going nowhere with Austell, awkwardly switched gears and focused instead on the assembled audience, who politely applauded the struggling reporter.
Scott then decided to ask festival volunteers, "What kind of fun do you think you're going to have today?" Two volunteers half-heartedly answered "um, helping" and "bouncing," respectively.
To make matters even worse, Scott then declared he would lead "a magic chant," asking the volunteers to repeat the phrase "Abracadabra one, two, three" to summon Mr. Wacky, a half-inflatable children's personality who's actually a man in a costume.
Mr. Wacky gamely came to the rescue and shared some relevant details about the festival and what audiences can expect.
But that wasn't enough for Scott.
"Now does that mean that everybody here becomes an inflatable today?" Scott asked Mr. Wacky.
"Do they want to be inflatables today?" Mr. Wacky responded, leading to another forced applause from the crowd.
The on-camera catastrophe came to a gruesome end with the official "Mr. Wacky Dance."
If a Hall of Shame of local meteorologists' live reports exists, this deserves a spot.