Miranda Lambert sings she 'got the hell out of Oklahoma' at ACM Awards in front of Blake Shelton, Gwen Stefani
Miranda Lambert is still shading her ex-husband Blake Shelton nearly four years after their highly publicized divorce in the summer of 2015.
Donning a revealing black sequin jumpsuit that hugged her curvy figure, Lambert took the stage at the 2019 Academy of Country Music Awards at the MGM Grand in Las Vegas on Sunday night and sang an updated version of her hit "Little Red Wagon," changing the words "I live in Oklahoma" to "I got the hell out of Oklahoma."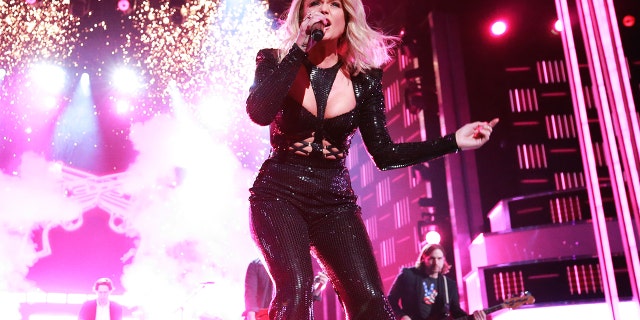 MIRANDA LAMBERT SAYS SHE 'HAD TO SING WITH SOMEONE WITH A PENIS' TO GET ANOTHER NO. 1 SONG
While this isn't the first time Lambert, 35, has sung the updated rendition of the hit record, she has never done so with Shelton present – seemingly shading the "Voice" judge in front of his longtime girlfriend Gwen Stefani in the process.
Viewers quickly went to social media to share their reactions to Lambert's diss with many applauding the songstress, while others voiced their displeasure calling it a low blow.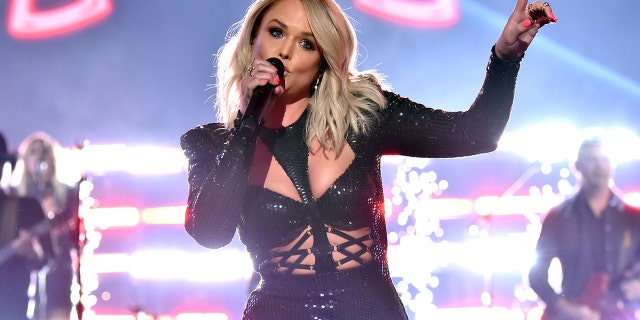 MIRANDA LAMBERT WAS 'FLIPPING PLATES' ON RESTAURANT GUESTS DURING SALAD INCIDENT, 911 CALL REVEALS
"If @mirandalambert is over Blake why take that dig. Don't forget at one time he was your sun and moon and you sure did have huge success with a song he wrote. I guess people in Oklahoma shouldnt support you as well right. You just dissed the entire state," one Twitter user wrote.
Another user echoed the same sentiments, writing "That was a classless move towards Blake, no reason for that. #bitterness #getoverit."
However, not everyone was dismayed with the "Over You" singer. One Twitter user said they related to Lambert's expressive display, tweeting "When @mirandalambert said "I got the hell out of Oklahoma" with Blake in the room. I felt that. I may have screamed a little."
"Miranda Lambert throwing shade at BS is why she will ALWAYS be the queen," wrote another user.
Lambert announced on Valentine's Day that she secretly "got hitched" to New York City police officer Brenden McLoughlin, 27, though the pair have been scrutinized for their nuptials ever since as the "Pistol Annies" singer had only split from boyfriend Evan Felker in August 2018. Before that, she'd rebounded from Shelton with rocker Anderson East. Lambert and East split in April 2018.
It's unclear how long Lambert and McLoughlin had been dating before they wed, but the country crooner absolutely did not want to talk about her new marriage when she was asked about her newfound love two weeks after making the announcement.
MIRANDA LAMBERT, HUSBAND BRENDEN MCLOUGHLIN TO COMMUTE BETWEEN NASHVILLE AND NEW YORK: REPORT
"Please — can you leave me alone please?" the Pistol Annie singer told Inside Edition. "If I say something, will you leave please?"
She added, "Like 'the world should mind their own f—king business.'"