Meghan Markle's father reacts to learning his daughter is pregnant
Meghan Markle's father, Thomas, said the news of his daughter's pregnancy — which was announced last week — was "overwhelming and joyful."
Speaking to The Mail on Sunday, the 74-year-old Markle sa id he found out Meghan, 37, was pregnant while listening to KABC-AM, a Los Angeles-based radio station.
MEGHAN MARKLE AND PRINCE HARRY'S RELATIONSHIP TIMELINE, FROM FIRST MEETING TO ROYAL BABY ANNOUNCEMENT
Upon hearing the good news, he said the first thing he thought "was holding Meghan in my arms as a newborn 37 years ago."
"I thought, 'My baby is having a baby,'" he told the news outlet. "It was a very proud moment."
He recalled the night Meghan was born in August 1981. Thomas said that because Meghan's mother was under anesthesia after the birth, he "was the first person in the world to hold Meghan."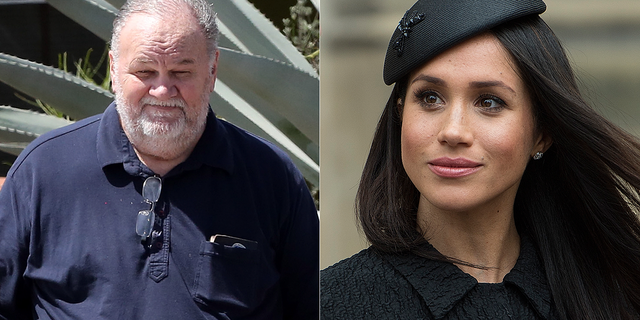 "When they handed her to me and I held her in my arms for the first time it was love at first sight. She was the most beautiful baby," he said. "Meghan winked at me and I fell in love and have never stopped loving her from that day forward."
Kensington Palace announced the pregnancy Monday, tweeting: "Their Royal Highnesses The Duke and Duchess of Sussex are very pleased to announce that The Duchess of Sussex is expecting a baby in the Spring of 2019."
MEGHAN MARKLE AND PRINCE HARRY SAY THEY HAVE A 'LONG LIST OF BABY NAMES,' WHILE EX-ROYAL BUTLER URGES FOR DIANA
Thomas Markle has been in the spotlight — often infamously — since Meghan joined the royal family in May. He said he was shunned after he was caught selling staged paparazzi photos days before her wedding to Prince Harry, which he didn't attend following his heart surgery.
In a statement released by Kensington Palace at the time, Meghan said her father "will not be attending our wedding," but noted she's "always cared for my father and hope he can be given the space he needs to focus on his health."
Meanwhile, Meghan's mother, Doria Ragland, said she was also "very happy about the lovely news and she looks forward to welcoming her first grandchild."
Meghan and Prince Harry are currently embarking on a 16-day tour of Australia.