Meghan Markle, Prince Harry marry at St. George's Chapel in front of A-list guests, royal family
WINDSOR, England – They did it! After a week dominated by Meghan Markle's family drama, the "Suits" star exchanged vows with Prince Harry at St. George's Chapel at Windsor Castle in front of A-list guests including Oprah Winfrey and George Clooney, and, of course, the royal family.
As Meghan walked down the aisle, Prince Harry appeared to tear up. She joined him at the front of the chapel and their wedding ceremony began. At the altar, Harry told Meghan, "You look amazing."
When they read their wedding vows, Harry very seriously bellowed "I will," to laughs from the crowd. Meghan replied more calmly. She smiled at Harry as she recited her vows, locking eyes with her groom. They then exchanged rings, with Harry wearing a wedding ring - unlike his older brother Prince William.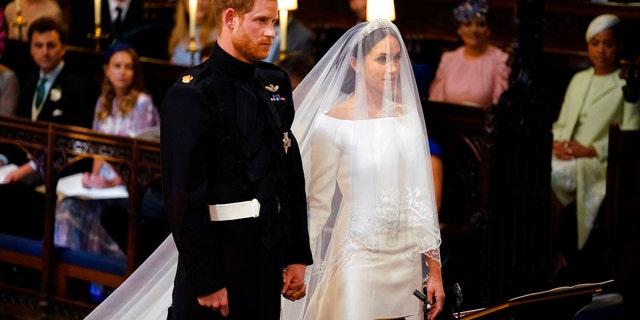 When they were proclaimed husband and wife, and cheers from outside could be heard inside the chapel.
The American-actress-turned-royal wore a portrait neckline, long sleeve mermaid gown with a lengthy train by Clare Waight Keller for Givenchy. She paired it with a veil adorned with lace and a tiara, lent to her by Queen Elizabeth II and once owned by Queen Mary.
Earlier, Prince Harry arrived with his brother and best man Prince William. They beamed as they made the long walk into the chapel in their military uniforms. The groom waved to the crowd as he walked inside.
When Prince Harry and Meghan exited their wedding ceremony, the crowds outside erupted in loud screams and cheers to celebrate the newlyweds. The pair kissed on the steps of the chapel.
Queen Elizabeth, 92, turned up at her grandson's wedding in a chartreuse dress and hat with a purple feather as the crowd stood in her honor.
Meanwhile, Prince William's wife Kate arrived in a cream coat and hat and escorted the flower girls inside, just before Markle walked down the aisle.
The bride's mother, Doria Ragland, watched the wedding in tears.
MEGHAN MARKLE'S FAMILY DRAMA EXPLAINED

Guests inside the chapel including the likes of David Beckham and Elton John were seen during the service.
Winfrey turned up at the chapel about two hours before the wedding in a pink feathered hat and a matching long sleeve, knee-length dress. She walked in behind Idris Elba and his fiancée. Actor George Clooney and wife Amal arrived a short while later, with Amal in a yellow hat and matching dress. James Corden also showed up at the royal affair.
Earl Charles Spencer, Princess Diana's younger brother, arrived at about the same time as Oprah. James Blunt walked in a few moments later, while Prince Harry's ex-girlfriend Chelsy Davy sat in the chapel in a black hat, looking serious as she waited for the ceremony to start.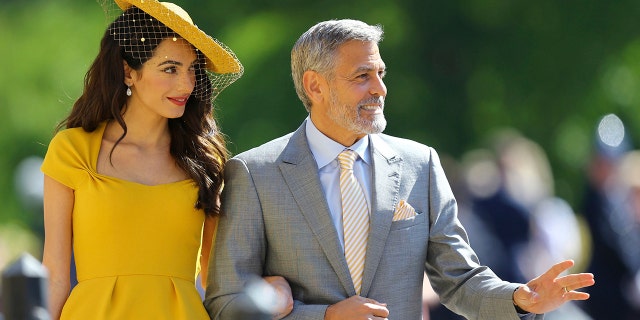 Earlier in the morning, many of the first guests to arrive were part of the approximately 1,200 members of the public that Markle and Prince Harry invited to witness their wedding, some of whom were invited due to their involvement in specific charities that are meaningful to the couple.
The chapel opened about two and a half hours before the wedding, and a few people began going inside the doors.
ROYAL WEDDING GUEST TELLS ALL AHEAD OF BIG DAY
But many royal enthusiasts got there much sooner. Some have been camped out at Windsor since Wednesday night.
After their wedding concluded, Prince Harry and Meghan toured around Windsor in a carriage waving at their fans as the crowds applauded wildly. At least 100,000 people are estimated to have flocked to the streets of Windsor to celebrate the couple's wedding and wish them well.
Prince Harry and Meghan Markle will now officially be known as the Duke and Duchess of Sussex, Kensington Palace revealed early on the morning of the pair's wedding day.
"The Queen has today been pleased to confer a Dukedom on Prince Henry of Wales," the palace said in a statement. "His titles will be Duke of Sussex, Earl of Dumbarton and Baron Kilkeel. Prince Harry thus becomes His Royal Highness The Duke of Sussex, and Ms. Meghan Markle on marriage will become Her Royal Highness The Duchess of Sussex."