Mayim Bialik: Hollywood is not friendly to people of faith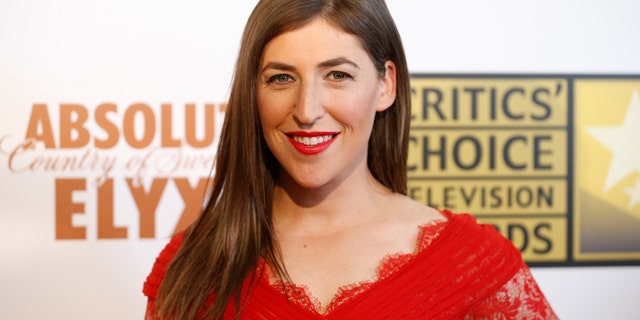 Mayim Bialik is best know for her role as "Blossom" on the NBC sitcom of the same name and as the quirky Amy Farrah Fowler on "The Big Bang Theory," but the 39-year-old is also known as a person of faith in Hollywood.
Bialik has consistently used her celebrity as a platform to support causes that are important to her and to share her message of modesty with her fans. At times that means upsetting a few people here and there.
Bialik, who is Jewish, recalled a recent trip to Israel that caused quite a stir on social media.
"I've gotten a lot of negative attention for visiting Israel," she told FOX411. She was visiting a friend in the Israel Defense Forces. "That's what's amazing...simply by going to Israel this summer and saying nothing more than, 'I've gone to Israel,' I got the same amount of hatred and threats and anti-Semitism for actually making a statement trying to support people whether I like it or not are serving in an army."
She continued, "That reveals the truth. It really doesn't matter what I support or believe the fact that I'm Jewish and go there is enough – that should be alarming to most people."
While the threats she received were from fans, Bialik said the entertainment industry isn't friendly to people of faith either.
"I think in general it's never going to be trendy to be observant or religious in Hollywood circles," she said candidly. "There are people I know of faith and we tend to congregate together. I study Jewish texts weekly. That's something really positive to me when you're a person of faith, it stays with you all the time."
The California-native explained that while she doesn't like "the bureaucracy of organized religion," she does "believe in a power greater than" herself.
"I have an unwavering faith in a power greater than myself and I don't think that will change any more than my belief in gravity will change," she stated. "In terms of observance, my social media shuts down for [the Sabbath] and sometimes we go to synagogue, sometimes we stay at home and we do [Sabbath dinners]...I believe in [Jewish law] but I also believe in the permeability and changeability in the structure of Jewish law and I think Judaism has always adjusted to the times that it lived in and it's adjusting in the time we are in now."
Bialik said her belief in God is often questioned by people who point to her degree in neuroscience and ask how she can believe in both God and science.
"Being a scientist and a person of faith, people want to know how that is. It leads to a lot of interesting conversations that I welcome but a lot of people want to open up a conversation just to tell you, you're wrong."
One aspect of Judaism the mom-of-two values is modesty.
"Being a modest dresser, that for me is a certain amount of my religious faith -- privacy and chastity. Just because I have a body, doesn't mean it means to be on display."
Bialik dislikes being labeled as "prude" just because she "doesn't dress the way everyone else dresses."
"It's important, especially for children and men and my sons to hear I'm not ashamed of my body, I just don't feel the need to display it with two tiny pieces of fabric when I want to go swimming."
Modesty is just one topic the actress plans on discussing on her new lifestyle site, GrokNation.com.
"I am who I am and it just kind of happened the fact that I'm a public person but there are a lot of other parts to me," Bialik said.
She decided to launch the website to share her beliefs but don't expect it to be anything like Gwyneth Paltrow's GOOP. "This is not like other celebrity websites."
As for what fans can expect on the new season of "The Big Bang Theory"
"I don't know what happens except...our first episode of Season 9 picks up exactly where Season 8 left off," she teased. "We deal head on with all of the relationships and how they were unfolding at the end of last season. There's some really funny stuff."
Faith & Fame is a regular column exploring how a strong belief system helps some performers navigate the pitfalls of the entertainment industry.
Country singer Aaron Watson puts faith first