Luisana Lopilato on Her First American Film and the Secret to Her Lasting Marriage With Michael Bublé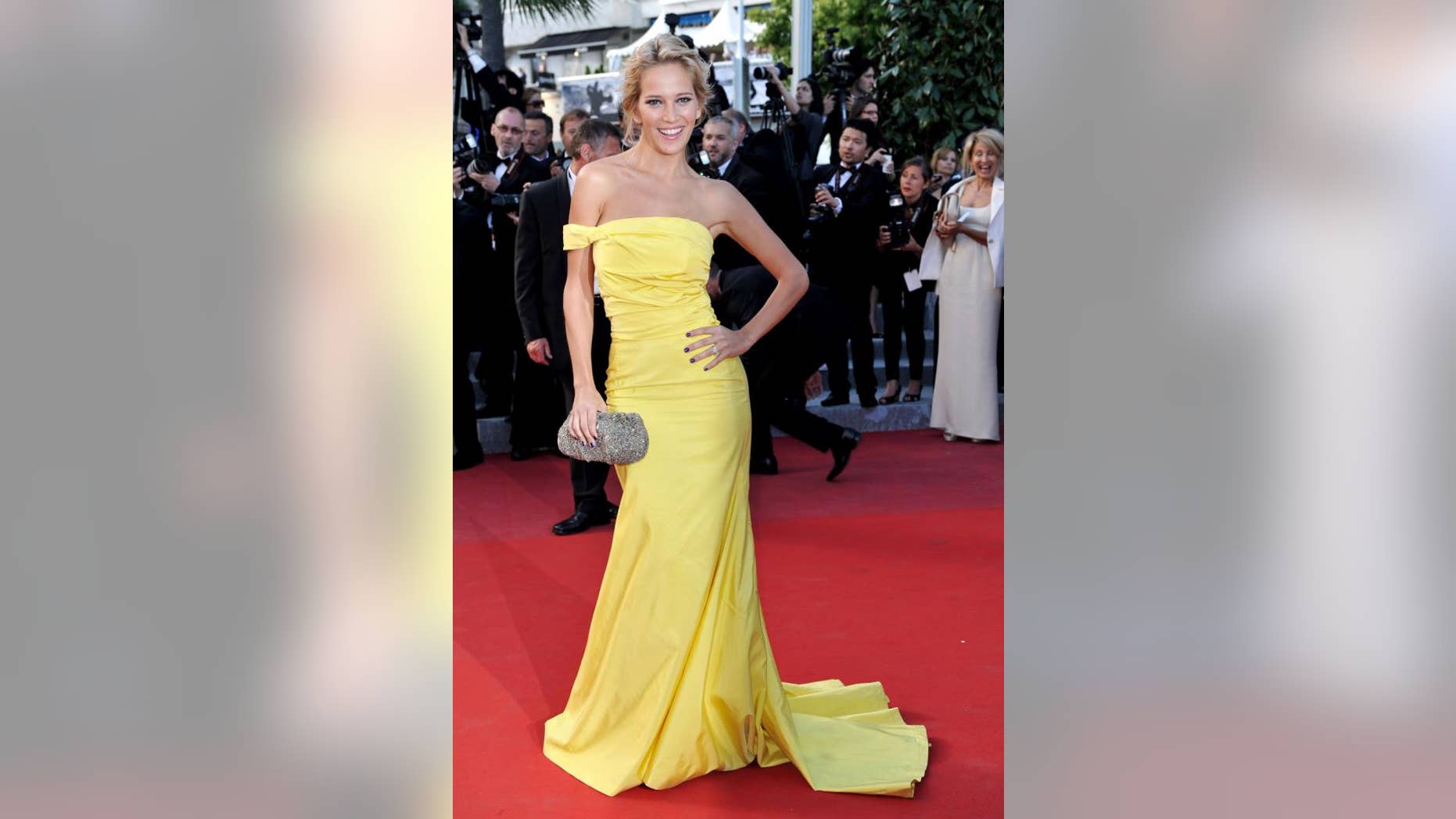 Luisana Lopilato is kicking off her American film debut with a major bang.
Last year, the Argentinean actress was busy filming her first U.S. movie — titled "Fair Market Value" — with musician/husband Michael Bublé and their two-year-old son Noah by her side. And if that wasn't enough, she also had a second baby on the way.
"I was so happy to be having a baby and to be doing my first American movie," Lopilato, 29, told People magazine about finding out she was pregnant with her second child only two weeks into filming.
"I couldn't ask for more at the time," she added. "I had a beautiful and healthy pregnancy, and just being with my husband made me happy."
Since then, Lopilato has given birth to the couple's second son Elías. Plus, she finished filming "Fair Market Value," which she counts as yet another of her proudest moments.
"Fair Market Value" follows Miami-based real estate agent Kendall (Lopilato) who moves to the New York suburbs to work at the competitive world of Atlantic Shores Realtors but soon butts heads with a rival agent. As tensions escalate, both are forced to work together and sell one of the most expensive mansions in posh Long Island — with hilarious results.
Fox News Magazine spoke exclusively with the new mom about filming her first American movie, how Bublé is showing support for her newest role, and whether she actually listens to the Canadian charmer belting out all of those Sinatra-esque tunes at home:
FNM: What drew you to the role of Kendall?
LL: It's a very smart role. Kendall is not just a pretty girlfriend or someone's wife. I wasn't in the country when they began casting the role, but they thought I would be a good fit, so I Skyped with the producer, Judy San Roman. It was a beautiful long-distance start to the making of my very first romantic comedy. Also, the timing was perfect, which made the role that much more attractive to me. My husband was able to take time off to be able to be with me and our son, Noah, on set.
FNM: I understand this is your first American film. What were some of the biggest challenges you faced?
LL: The making of the film marked a great time in my life. I had just found out I was pregnant, and my husband and son were on set with me. The initial challenge was that I didn't know what to expect from an American indie film, particularly the conditions and crew. I quickly learned how fabulous the cast and crew were, so that was no problem, but I was also concerned with my English. Certain pronunciations were hard for me. I practiced, practiced, practiced, and before I knew it, those challenges became second nature. My producer, Judy San Roman, also inspired me to be courageous. Making this film definitely got me ready and excited for new opportunities in Hollywood film.
FNM: Your husband Michael Bublé provided music for the film. What was it like working/collaborating with your spouse?
LL: My husband and I always support one another. I love to be on tour with him and it's wonderful when we can travel together as a family. This was different because it was my first American feature. At first, he was solely there to encourage me as my best friend/partner. It was only months after, in post-production, that Judy San Roman approached Mike for music. Mike is a huge fan of supporting the arts. He watched the film with me and really enjoyed it, except for my kissing scenes.
FNM: "Fair Market Value" is also a film where you get to show off your comedic chops. What's the funniest thing that happened on set?
LL: Funniest thing that happened to me on set was when I was working with D.C. Anderson. He is the nicest guy, but I thought cast and crew weren't fond of him because they kept calling him a**h***. I didn't realize they were calling him Oswald, his character's name. Language barriers!
FNM: Now that you've played a real estate agent, did you learn anything about the real estate market?
LL: There is plenty of inventory out there, so don't overbid for something!
FNM: You welcomed your second child Elias earlier this year. How do you balance a career while being a hands-on mom?
LL: It's all about my family for me. I want to be there for all the moments, which is why Mike and I coordinate schedules. We try to be together as often as possible when we are working. I also believe you need to take care of yourself in order to take care of your kids, husband, and those around you, which is why working out is important to me. I really am blessed to say I enjoy my work as an actress, so being able to balance it all is incredible for me. So far, I'm juggling everything pretty well.
FNM: In previous interviews, you've emphasized how marriage is not a fairytale romance. What's the secret behind your lasting marriage?
LL: We are each other's best friends and partners in everything. We are together for the sunny days and the stormy ones. We don't go to bed upset about anything and talk everything out. Family is also important to both of us, which makes planning our schedules in advance important. By planning, we are able to support each other's big projects. I have never felt more loved or respected, and that what makes it easy to work through the stormy days.
FNM: What's one role you would love to play?
LL: I haven't done an adventure film yet. I would love to do something like "The Avengers" or "Raiders of the Lost Ark."
FNM: Now that you're breaking into American films, which actors would you most like to work with and why?
LL: I believe laughter is the best medicine for any ailment and would really enjoy working with comedians like Ben Stiller and Will Ferrell, to name a few. Those guys always deliver. I'm open to endless possibilities.
FNM: And finally, does Michael ever sing just for you? What's your favorite song?
LL: He sings pretty much all the time! Whenever he is working on a new song or comes home from recording in the studio, he is belting out tunes. The boys love listening to daddy. Noah knows every song on the new (upcoming) CD. I can't wait for you all to listen to it. It is just wonderful. I love everything he sings, but one of my favorites is from his last CD, "Close Your Eyes" … just wow!
Check out the tailor for "Fair Market Value" below: