Lena Dunham poses in underwear while giving her support of Cynthia Nixon for NY governor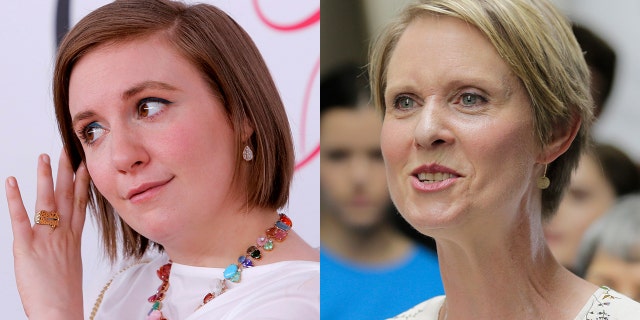 Lena Dunham is showing support for a cause the best way she knows how — by posing somewhat nude on social media.
The "Girls" creator recently shared a pair of images declaring her support for fellow HBO star Cynthia Nixon's bid for governor of New York as well as a women's advocacy group that supports her.
On Monday, Dunham posed alongside Nixon holding merchandise that reads, "I'm a Miranda and I'm voting for Cynthia." The shirts reference Nixon's character on the hit HBO series "Sex and the City," which spawned two movies since airing its final episode in 2004.
"Honored to host a fundraiser with my most inspiring buds for the best candidate my heart ever dreamed up," Dunham wrote in the post's caption. Dunham then directed users to visit Nixon's campaign website via a link her in account's bio.
Later in the night, Dunham posted a racier shot of herself in her underwear sporting just a T-shirt for The Wing, an exclusive membership network designed to promote work and social spaces for women. It's unclear if the two posts were meant to be related, butThe Daily Mail notes that the $3,000 per year club endorses Nixon as well.
According to The NY Daily News, Dunham previously gave $10,000 in donations to Nixon's campaign. She joins stars such as Susan Sarandon, Sarah Jessica Parker, Kristin Davis, Mary-Louise Parker, Zachary Quinto. Kyra Sedgwick and Debra Messing to do the same in varying amounts.