LeAnn Rimes wears a bikini to the grocery store, after she said she would never do such a thing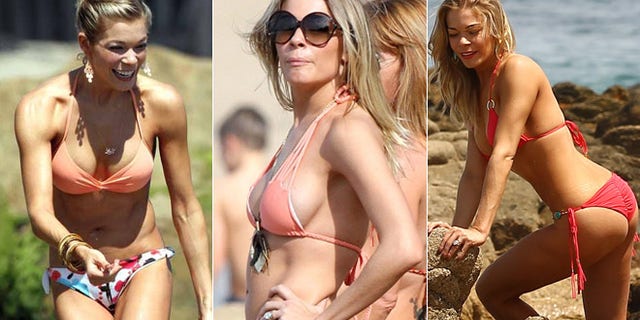 LeAnn Rimes sported a bikini while grocery shopping Monday, the Post reports, even though the country singer once dodged charges that she is addicted to skimpy swimwear by saying, "I'm not, like, going shopping at the grocery store in a bikini."
Rimes turned heads as she strolled into Ralphs grocery store in Calabasas, Calif., to buy supplies for Memorial Day. The songstress wore a bright white bikini covered only by a sheer poncho and denim shorts.
Rimes smiled big as she was snapped in the parking lot, clutching a sky-blue bag and teetering on cork wedges.
MORE PICS: Leann Rimes at Ralphs grocery.
The star, who often is photographed in barely-there swimsuits by the paparazzi and has been widely criticized for obsessively posting her own bikini pics on Twitter, ironically told Chelsea Handler in February that she would not ever grocery shop in swimwear.
"I am on the [bleeping] beach, for God's sake," Rimes told Handler, defending her frequent swimsuit shots. "I'm not, like, going shopping at the grocery store in a bikini. I'm on the beach, and there happen to be photographers who follow us everywhere. It's quite annoying."
During her appearance on "Chelsea Lately," the star did confess to tipping photographers off to when she and husband Eddie Cibrian were on the beach in scenic locations like Maui, Mexico; and Malibu.