Kid Rock vs. Eminem: Will music stars compete for Senate seat?
Rapper Eminem's brutal takedown of President Donald Trump in a freestyle rap Tuesday has sparked calls from his fans to challenge Trump supporter Kid Rock to a rap battle -- or even a run for a U.S. Senate seat in Michigan.
The two music stars hail from the same area outside Detroit that has been a hot political battleground in recent years, yet their views seem to vary widely on many issues.
Eminem, also known as Marshall Mathers, made an appearance at the BET Hip-Hop Awards and performed a profanity-laden freestyle rap attacking the president. He rapped how Trump could cause "nuclear holocaust," called him "orange," and said racism was the "only good thing he's good for."
"We better give Obama props, because what we got in [office] now is a kamikaze that will probably cause a nuclear holocaust," Eminem rapped. "He's going to lower our taxes. Then who's going to pay for his extravagant trips back and forth with his family to his golf resorts and his mansions? Same s--- that he tormented Hillary for and he slandered then does it more."
Hip hop fans quickly drew a contrast between Eminem and Kid Rock, the diehard Trump backer who has floated the idea of running for the U.S. Senate.
In September, Kid Rock delivered a profane speech reportedly attacking former NFL quarterback Colin Kaepernick for refusing to stand during the national anthem. Rock also published a Facebook post slamming "the extreme left" for accusing him of bigotry despite his history of philanthropy in Detroit.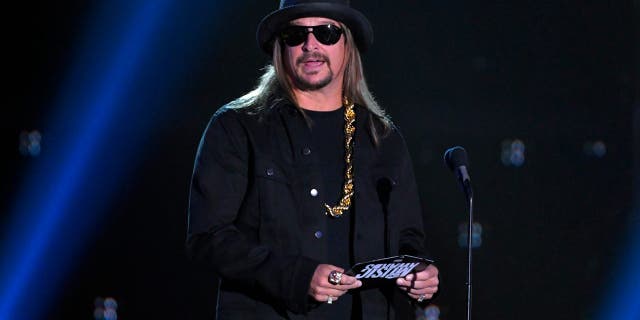 And just last week, Rock made another political speech during a concert at the Fish Fry festival in Nashville, talking about the Las Vegas massacre and honoring U.S. service members and the American flag.
"It's just a show of true testimony that – everybody being here and all the love in this place tonight – that nobody's scared to come out," Rock said, Rolling Stone magazine reported.
The outspokenness of the two stars, and their common connection to Michigan, has many fans calling for a politically charged rap battle or, less seriously, a showdown in a U.S. Senate race.
Their home turf -- Detroit's suburban Macomb County – is a source of constant fascination for pollsters and pundits trying to take the pulse of white Middle America, Politico reported.
The county is heavily working class and its voters comfortably backed the Democratic Party in the 1960s. But with increasing cultural alienation, the county flipped to being Republicans, giving birth to the "Reagan Democrats" -- those who favor the social values of the GOP but prefer Democratic economic policies.
Trump won the county during the 2016 presidential election and carried the state of Michigan.