Keith Urban gives private hospital concert to sick fan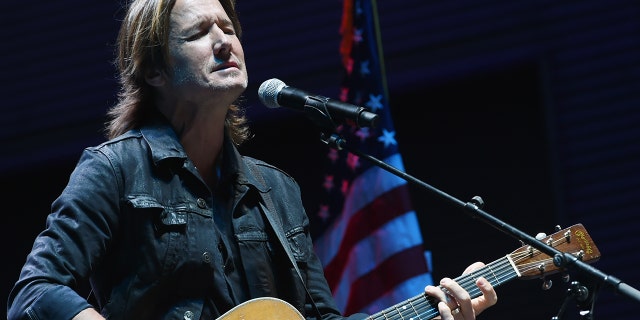 Keith Urban is doing what he can to bring a little light to one fan's life.
The 50-year-old country star recently paid a visit to Mercy Health St. Vincent Hospital in Toledo, Ohio, to meet Marissa English, a fan too ill to attend his Graffiti U tour stop.
English was born with a variety of health conditions, including an inoperable cyst on her brain, severe scoliosis and cerebral palsy. She's currently in hospice care, but has always been a huge fan of Urban.
"She has memorabilia from a couple of the other concerts we've been to. She has a T-shirt that we put on a pillow that's beside her all the time. It's actually cute because she'll pick up the pillow and hug it and kiss it…She'll point at it and say 'Mr. Hottie,'" English's mother told WTOL.
Keith Urban Says It's 'a Bit Rough' Explaining Nicole Kidman Split Rumors to Their Kids
Twenty-five-year-old English's love for Urban became known to the nurses at the hospital, who helped start a social media campaign to get the "Coming Home" singer to visit. It all came to fruition on Thursday, as Urban stopped by before his concert at Toledo's Huntington Center to privately serenade Marissa in her hospital room.
Urban has previously admitted that it doesn't take much to pull at his heartstrings. In a 2016 interview with Rolling Stone, he revealed that he has a "good cry" about once a month.
Keith Urban Reveals the Reasons Why He Cries Once a Month
"When I haven't cried in a while, I can tell I get pent-up. Then maybe once a month I have a good cry, one big avalanche of a torrential downpour, and I feel amazing for weeks afterward. The streets are cleaned, the skies are blue, there's no humidity and it's beautiful," he shared.
He opened up more about his comments in July, telling Andrew Denton on his show, Interview, that "anything" will make him tear up. "[It's] accumulative, accumulative things that didn't really warrant a cry at the time, and they add up, you know," he said. "I mean, little things, the passing of time, kids growing up, the loss of friends, loved ones for all manner of reasons -- all of it."
Keith Urban and Nicole Kidman Team Up for Sweet 'Female' Duet